GRAHAM have commenced the journey towards the widespread adoption and implementation of the Passivhaus standard and methodology into their business operations.
Developed by the German Passivhaus Institute, Passivhaus is a performance standard for the design and construction of comfortable, highly energy efficient buildings that are compatible with net zero carbon requirements.
Its primary purpose is to achieve a high level of indoor comfort and health, while using little heating, cooling and total energy.
In the UK, the Passivhaus standard can be achieved through the adoption of a number of factors including "Passive Design Principles" and a "Fabric First" approach, which includes enhanced levels of insulation, reduced thermal bridges and stringent air-tightness requirements.
Significantly, Passivhaus buildings can deliver up to a 90% reduction in space heating requirements when compared to traditionally constructed buildings.
As well as for new buildings, the Passivhaus approach can also be used for refurbishment projects via the EnerPhit Certification Process.
Supporting our carbon reduction plans
At GRAHAM, we have committed to a zero carbon emissions target by 2045 and a 30% reduction in our carbon intensity.
To help us achieve these ambitious carbon reduction objectives, we have established a dedicated Passivhaus Development Group that is made up of representatives from our design, construction, lifecycle, environmental, work winning and social impact teams.

Momentum is building.
In December 2020, George Cunningham (GRAHAM Regional Building Services Manager) and James Robertson (GRAHAM Pre-Construction Manager) successfully passed their respective Passivhaus examinations. The duo are now officially recognised by the Passive House Institute as Certified Passive House Designers.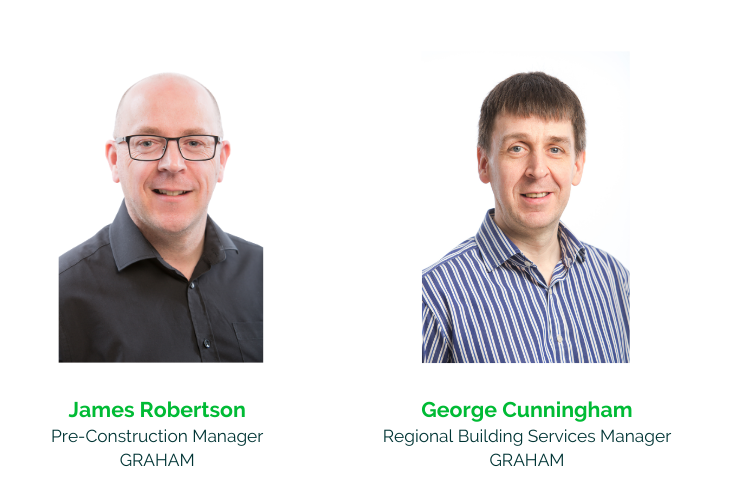 A bespoke GRAHAM Passivhaus Quality Plan is also being developed internally, and we are exploring opportunities to deliver a Passivhaus research project.
Commenting on the continued expansion of our in-house Passivhaus expertise Craig Bridges GRAHAM Strategic Business Director – Building North, said:
"We are committed to implementing and embedding the Passivhaus principles throughout GRAHAM. The international standard represents a real step change for the construction industry. The creation of a dedicated Development Group, and the recent graduation of James and George as certified Passive House Designers, are clear indicators of our proactive engagement with Passivhaus and demonstrate why we are recognised as a leading responsible, sustainable contractor.
"The Passivhaus Trust, a UK affiliate of the Passivhaus Institute, has recorded the development of over 1000 certified Passivhaus units in the UK. The implementation of the standard is growing at a considerable rate. At GRAHAM, we understand the clear benefits that Passivhaus delivers in achieving significant energy and carbon reductions. Therefore, we are excited about the continued development of our in-house capabilities and are energised to leverage off the strategic partnerships which we have established to expand our expertise."
For more information on our carbon reduction commitments, please visit: https://www.graham.co.uk/csr/environment