Poynton Town Council is pleased to announce the launch of the 'Bee a Poynton Pollinator' project, which will see new bee-friendly flowerbeds planted around the civic hall. The council is delighted to be working with businesses and key community groups to make this first pollinator project a reality.
The beds around Poynton Civic Hall haven't seen a horticultural hand for many a year with uninspiring and lacklustre planting – typical of what you might find in a municipal planting scheme from yesteryear. However, this new project hopes to bring a new lease of life to the area, creating a space that both residents and wildlife can enjoy.
The project has been made possible through the generous support of businesses and local community groups, particularly civil engineering specialists GRAHAM, who are currently constructing Poynton's Relief Road. GRAHAM have provided a digger and the help of construction workers who have removed the shrubs and cleared the site, which was a great help considering the extensive roots that needed to be removed before any planting could begin.
Dan Cawthra, Stakeholder & Communications Officer at GRAHAM says:
"We measure our impact not just in the quality of the projects we deliver, but in the longer-term impact on the environment, communities and people, so in this instance, we're really pleased to be supporting Poynton Town Council and their partners with this exciting pollinator project for the local area and look forward to the positive biodiversity results it will bring."
Together with the team from GRAHAM, Poynton Town Council staff moved 17 tonnes of new soil over the beds to give the new plants the best start possible. Poynton Baptist Church's Gardening Community then designed the amazing bee-friendly planting scheme for the beds, and it was a hive of activity with their volunteers planting the new beds!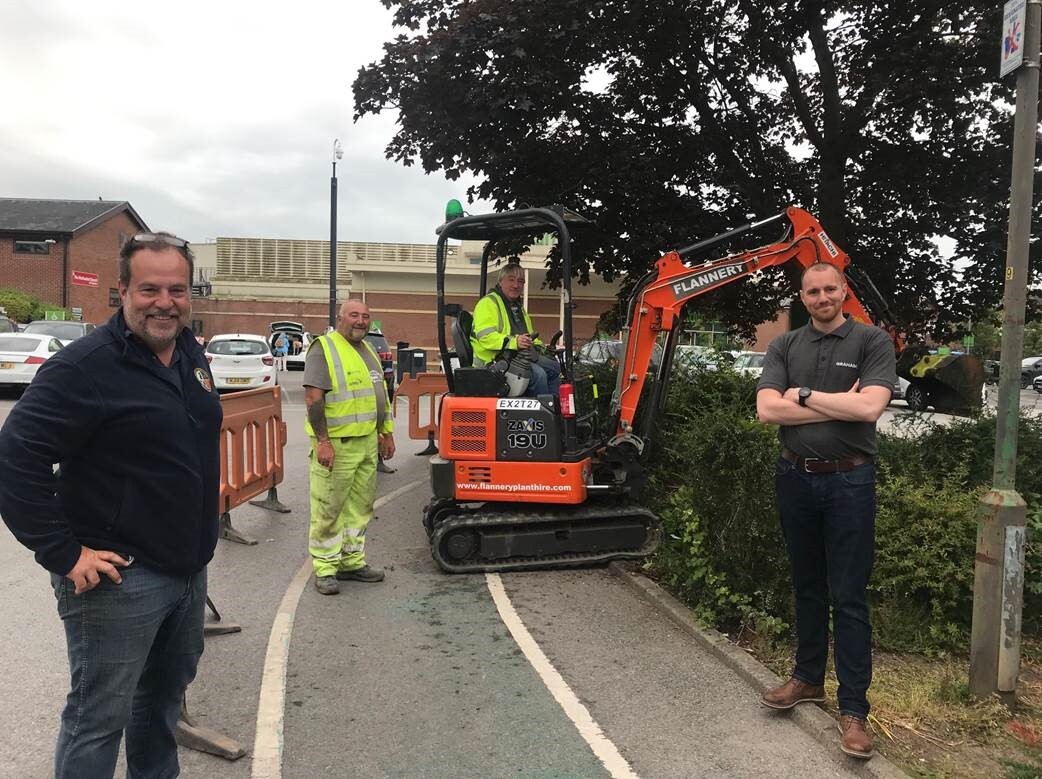 The Heritage Garden Group and Poynton Twinning Association have also planted apple trees so there'll be 'food for free' in the autumn-time for years to come, with further support from Middlewood Partnership with the project as well.
Cllr Simon Lees, Lead of Poynton Town Council's Village Improvement Working Group said:
"This is the start of a fantastic project involving the local community responding to a global problem. Pollinators are currently in decline and Poynton Town Council is proud to be introducing a campaign to encourage a better habitat for pollinating insects such as bees and butterflies. We are working very closely with Poynton Baptist Church, the Heritage Garden Group and the Poynton bypass contractors GRAHAM to transform some of the unsightly garden areas to ensure our town is much more attractive to pollinators. I'm confident it will, in turn make it a much more attractive area for our residents too."
Cllr Kevin Booth, Chair of Poynton Town Council's Facilities, Infrastructure and Economic Development Committee (FIED) added:
"Our Community Coordinator Sharon Duke and the recently appointed Operations Manager Chris Oakes are bringing together community groups and local businesses to both improve the look of the village while also promoting the 'Poynton Pollinator' initiative, encouraging us all provide our very own area for bees, butterflies and bugs."
The 'Poynton Pollinator' project is only just beginning, and will continue with the help of local businesses and community groups over the next year, helping to boost Poynton's pollinator population.