GRAHAM is delivering 464 much-needed homes in Bonnington for PLATFORM_ and Heimstaden. The build-to-rent (BTR) development in Edinburgh has reached an important milestone, topping out at six storeys in height.
Delivery partner GRAHAM welcomed developer and operator, PLATFORM_, and Heimstaden, who are forward funding the project, to celebrate the milestone. Wider project team members also joined in marking the occasion, including jmarchitects, Thomas & Adamson and Axiom.

Attendees ascended to the top of one of the blocks, acknowledging the milestone by signing a plaque and enjoying conversations about the development, the local area and what is to come. Then on the way back to the office, GRAHAM provided a tour of some of the rooms to show how the project is progressing. To complete an excellent afternoon, all guests were invited to enjoy a lunch at Malmaison Edinburgh on Leith waterfront.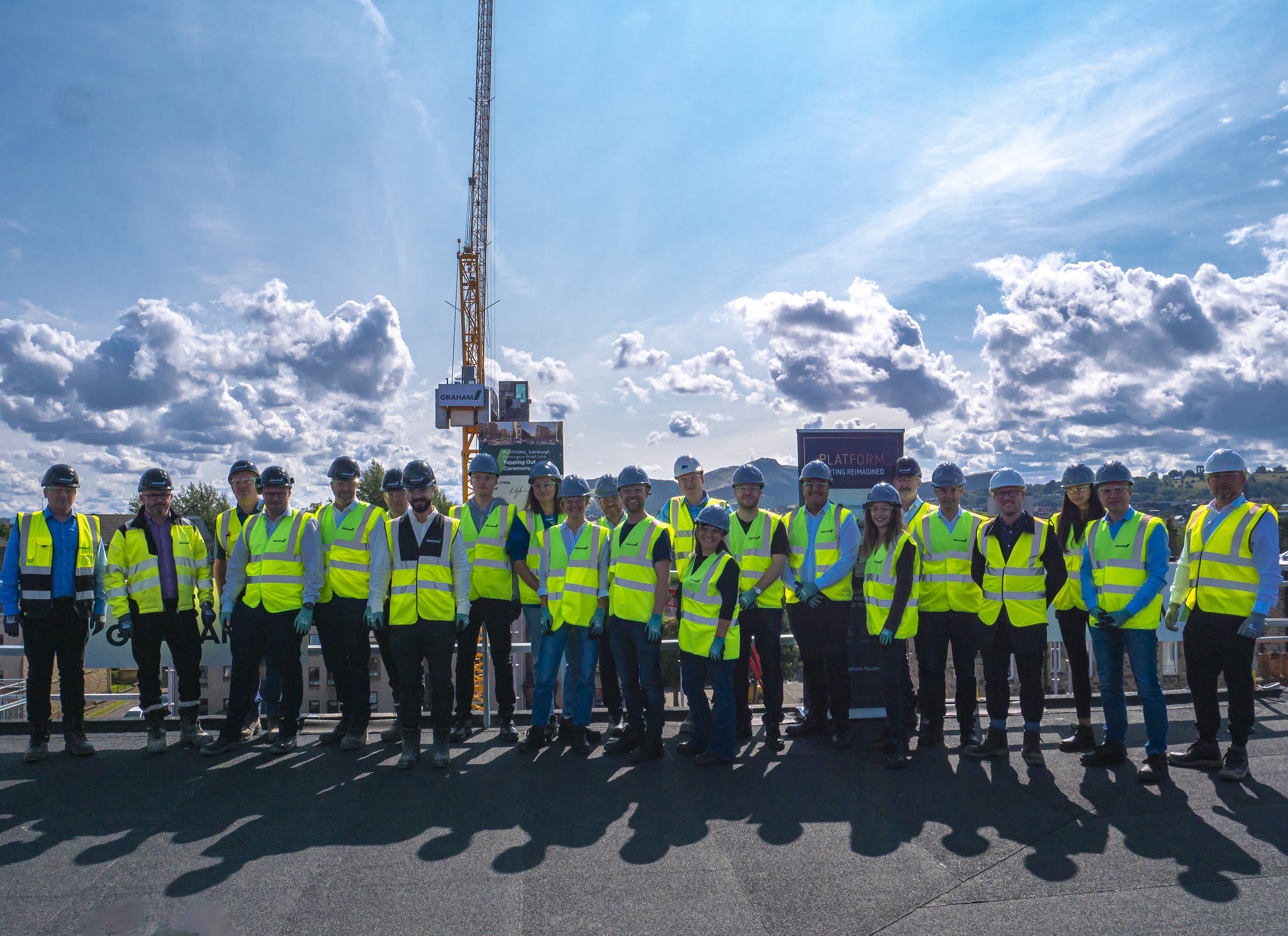 On schedule to complete in summer 2024, the £125million development is spread across three residential blocks totalling 325,000 sq. ft. of space. 464No high-quality new homes will be provided, including 116 much-needed affordable units. Integrating into the community surrounding the Water of Leith, the development benefits from plenty of hospitality and leisure offerings close by, as well as excellent public transport links connecting residents to the city centre. Strong interest is expected from renters in the capital, where existing provision is limited.
Residents will also benefit from an on-site customer service and maintenance team, as well as a range of first-class amenities including a fully equipped gym with yoga room and spin studio, screening room, bookable private dining room and open plan co-working space. Rooftop terraces overlooking the Water of Leith will provide fantastic spaces to socialise.
The wider development will also include four new commercial units, attractive to local businesses and convenience store operators. A new access road to the site is under construction too, which will link Anderson Place and Bonnington Road Lane.
Sustainability has been a key focus of the project. Electric vehicle charging points, mechanical ventilation heat recovery (MVHR) units and roof mounted solar panels for on-site power generation in the common areas are just some of the benefits provided. In addition, the development is an all-electric scheme, which aligns with The City of Edinburgh Council's plan to deliver a net zero city by 2030.
Jean-Marc Vandevivere, CEO at PLATFORM_, said:
"Edinburgh is one of the most vibrant cities in Europe and we are incredibly proud to partner with Heimstaden to enhance the popular Bonnington district with tech-enabled and well-priced housing, continuing the regeneration of the area.
"Our range of one, two and three bedroom apartments have been designed with flexible living at their heart, providing a blueprint for modern day living and attractive rental opportunities for a wide range of demographics.
"It was fantastic to join our funders and project team to celebrate a significant milestone in our journey to becoming one of the most sought-after locations in Edinburgh to call home."
Gary Holmes, Regional Managing Director for GRAHAM's Building North region, said:
"GRAHAM is proud to be working with PLATFORM_ and Heimstaden to deliver a BTR development which prioritises sustainability and the resident experience. BTR is a rapidly emerging sector which is revolutionising the UK rental market. Our team is pleased to aid the regeneration of the Bonnington area, a community which is becoming a destination of choice for Edinburgh residents."
Christian Birrell, Head of UK Investments at Heimstaden, said:
"At Heimstaden, we are very happy to extend our growing UK footprint of what we call Friendly Homes to the Scottish capital and are especially pleased to be involved in a low emission project benefiting the net zero trajectory for Edinburgh. Designed and operated with a tenant-centric mindset, the 464 new homes in Bonnington represent a considerable supply relief to the ever so strained Edinburgh rental market from a long-term oriented, responsible institutional owner."
GRAHAM is also undertaking the construction of the PLATFORM_ Glasgow development at Central Quay. The development, which is due to complete in Q4 2023, will create 498No homes and become one of the tallest buildings in the city at 20-storeys high.