The GRAHAM Group SHE team were awarded Excellence in the Use of Construction Software at the CEF NI Awards 2023 for the design and effective implementation of the SHE software 'CORA'.
Commenting on the win the judges said:
"The CORA solution...stood out among this year's entries, particularly for the H&S benefits for individuals on sites."
CORA was designed in-house by GRAHAM and developed by Cora Technologies as our SHE reporting and analysis portal. It allows for timeous reporting of all types of incidents, observations and disciplines across the 3 strands of SHE, due diligence and compliance auditing of all sites, and recording of energy, fuel, waste and water usage to monitor and manage our journey to net zero. It is accessible via any smart device and provides the option of anonymous reporting through dedicated QR codes and web links, empowering people to 'speak up' and become a springboard to psychological safety.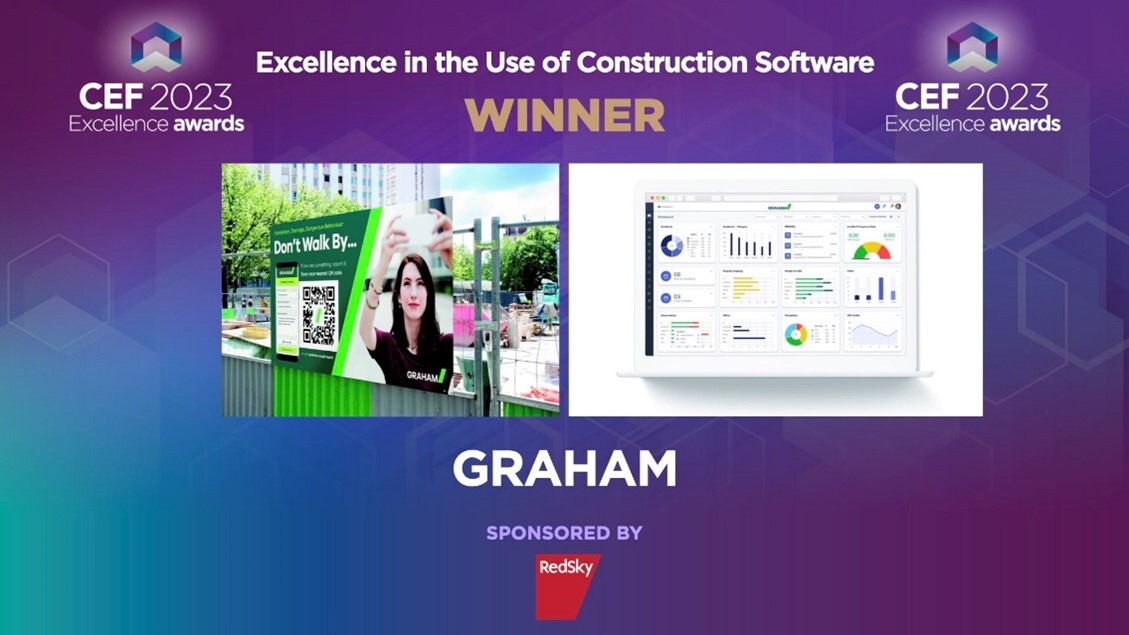 Andrew Cooke, SHE Director, commented:
"I would like to thank everyone on our sites, in our support teams and the developers themselves, for embracing the idea and implementation of CORA and using it so effectively. This has resulted in a noticeable reduction in physical paperwork, efficiencies in reporting and the quality of information provided, and improvements in our overall performance across all facets of SHE. Congratulations to everyone involved – this truly is a whole company award."
Jonathan Knight, CEO of Cora Technologies, added:
"We are delighted GRAHAM has won such a prestigious award for their use of the Cora platform, and proud to be their partner and the developer of this now award-winning software. The concept and vision they had, before we even typed a line of code together, with the support we received, has been invaluable at every stage of the build. Together we have developed a platform that helps companies create a safer, smarter, leaner, healthier, more sustainable and carbon aware working environment."