Our Building North division continues to provide a platform for future leaders to have their voices heard. The Young Persons Forum brings together colleagues to engage with each other and drive change across the region.
The latest forum was held at Glasgow Clyde College's games hall on 17th August 2023. GRAHAM's Wellbeing Manager, David Daly, joined to give a bespoke presentation centered around questions that had been raised at the forum previously.
The forum was also interactive, through a team building exercise. Led by Suzanne Stevenson, Social Impact Advisor, and our Young Persons Reps, the group was tasked with building a giant tetrahedron (4m x 4m). That's why we moved the forum to a new location on this occasion – we needed the space!
As well as a fun team challenge, the exercise also showed our current and future STEM Ambassadors an activity they could undertake with school pupils. Who said building couldn't be fun?!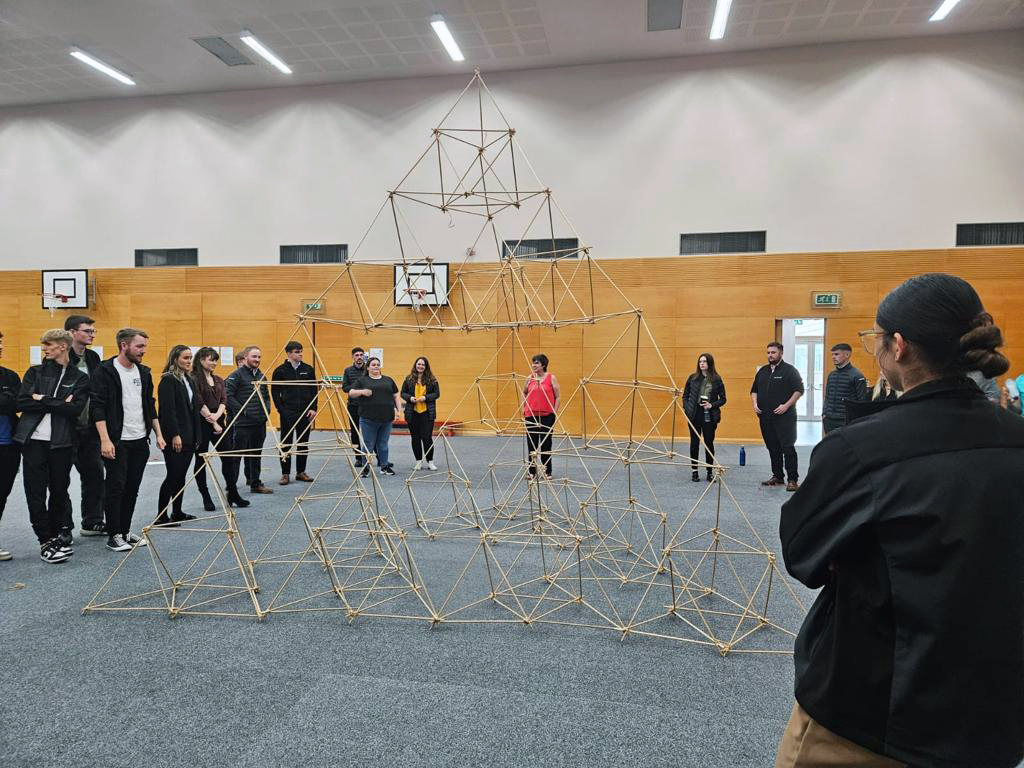 To complete the great event, our Young Persons Reps then presented to their peers. They showcased the forum's achievements to date – and there are many! These include developing Wellbeing and FIR (Fairness, Inclusion and Respect) Boards for our sites and offices.
Debbie Rutherford, Social Impact Manager for GRAHAM's Building North region, has been instrumental in developing the Young Persons Forum and continuing to build its momentum. She commented:
"Our young people are vital to the continued success of our business. That is why it is important that their voices are heard, and that their thoughts, feelings and ideas are used to deliver changes throughout the Building North region, making a real difference.
I am delighted that our Building North Young Persons Forum continues to grow and thrive. Our Young Persons Reps are truly inspiring, and the passion of the group is driving positive change. Having teams throughout the business volunteer their time to deliver engaging presentations and activities is a testament to GRAHAM's efforts to develop the young workforce, and to ensuring that age is never a barrier to anyone's success."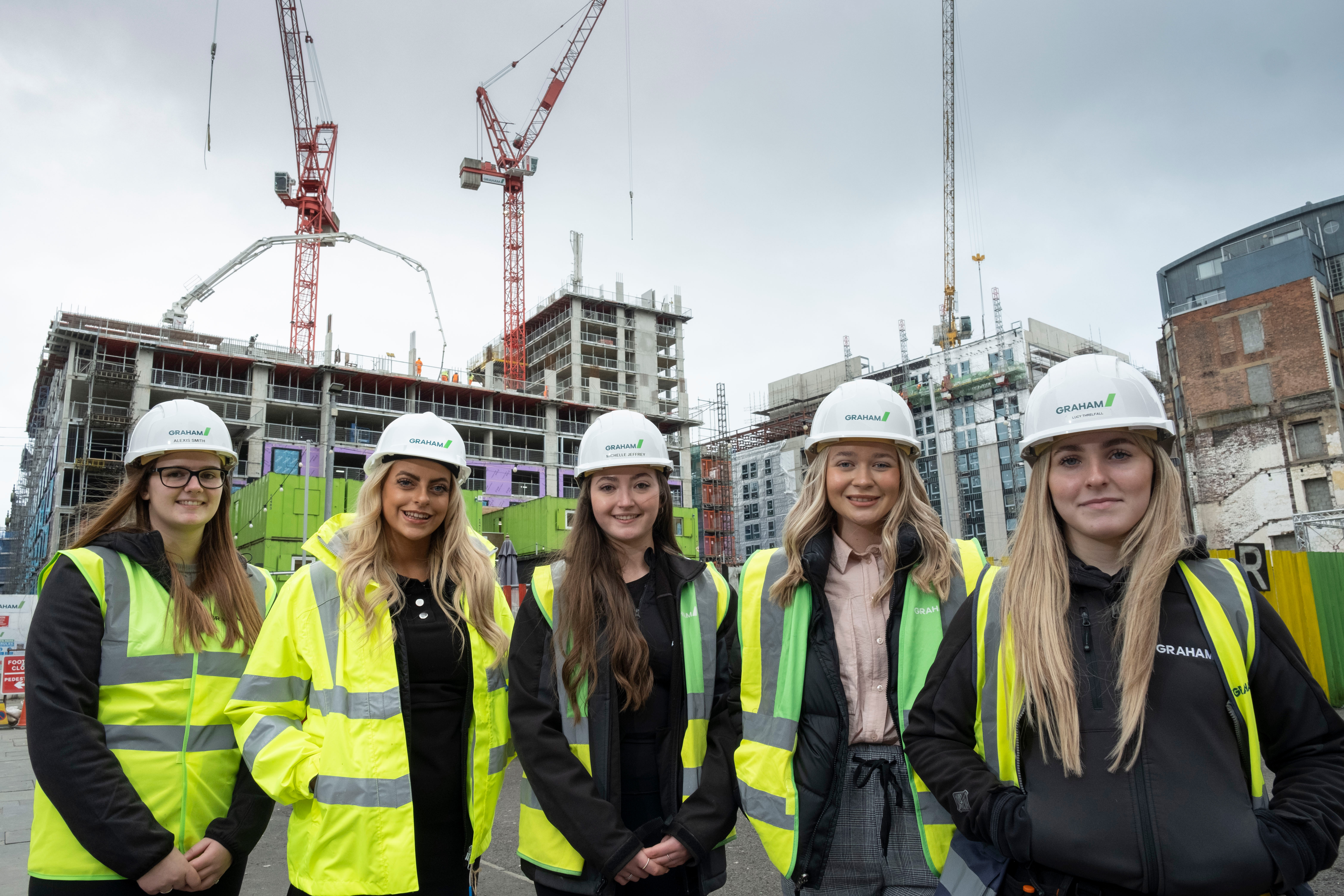 GRAHAM's Building North region is developing the young workforce
Seventeen apprentices/trainees have joined GRAHAM's Building North team in 2023, and all have been signed up to formal apprenticeship programmes starting in August/September 2023. This means we now have circa 60 young people (aged 16 -30) working within the region, who are either studying or have completed their studies.
Members of our young workforce are making great progress across the region. They are spread across a wide range of disciplines: engineering, site management, building services, commercial, design management, planning, pre-construction, estimating and support services. We have Young Persons Reps – all in the 16-30 age group – who not only support and inspire fellow colleagues, but also have a real opportunity to drive change and gain invaluable leadership skills. Our Young Persons Forum also encourages colleagues to sign up to be Wellbeing Reps, Mental Health First Aiders and STEM Ambassadors.
Why was the Building North Young Persons Forum established? Well our young people are paramount to the sustained growth and continued success of our business. With a well-documented skills shortage across construction, we know we need to act now to develop our future leaders, change drivers, innovators and workers. Importantly, we wanted to create an environment where everyone feels welcomed, supported, and encouraged to develop themselves professionally. Every colleague needs to have a voice!
With the opportunities of the Young Persons Forum, also comes challenges. We are pushing our colleagues out of their comfort zones, encouraging them to grow as individuals. Our young people are being encouraged to embrace the challenges they inevitably face during the course of working, studying – or even in their personal lives. That is why we provide a safe space for everyone to grow at their own pace, provide opportunities to develop additional skills, and of course we offer a lot of support through peers, Young Persons Reps, Workplace Mentors and Line Managers.
Our Forum's work continues every day, and the group will reconvene next quarter to inspire, challenge and deliver change for the Building North region.