Bruntwood SciTech has marked the topping out of Enterprise Wharf, Birmingham's first smart-enabled building located in the city's Knowledge Quarter (B:KQ), with a celebratory launch event at which local business leaders were granted early access to the building and learnt more about the company's exciting plans for the innovation district.
Guests also planted trees as part of the scheme's sustainability commitments. A total of 83 trees are being planted around Enterprise Wharf alongside plans to create rejuvenated canalside and amenity.
Once complete later this year, the new 10-storey, 120,000 sq ft high-tech Enterprise Wharf is being developed by Bruntwood SciTech, a partnership between Legal & General and property company Bruntwood. Currently under construction by GRAHAM, Enterprise Wharf will offer premium workspace for digital and technology companies, as well as larger corporations with technology divisions.
The smart-enabled building will reduce emissions, lower operational costs and optimise workers' experience and wellbeing. Innovative new technologies, such as 'Internet of Things' sensors, will be embedded throughout the building, forming a 'central nervous system' that will provide insights into its energy usage. Businesses can then harness the data to optimise heating, lighting and air quality, ultimately creating an enhanced workplace experience for employees.
The day's speakers, which included Bruntwood SciTech's Commercial Director, Bradley Topps, spoke about the huge potential for further inward investment and growth for B:KQ, and the significant role Enterprise Wharf is playing in the regeneration masterplan for the Innovation Birmingham campus and the wider Knowledge Quarter.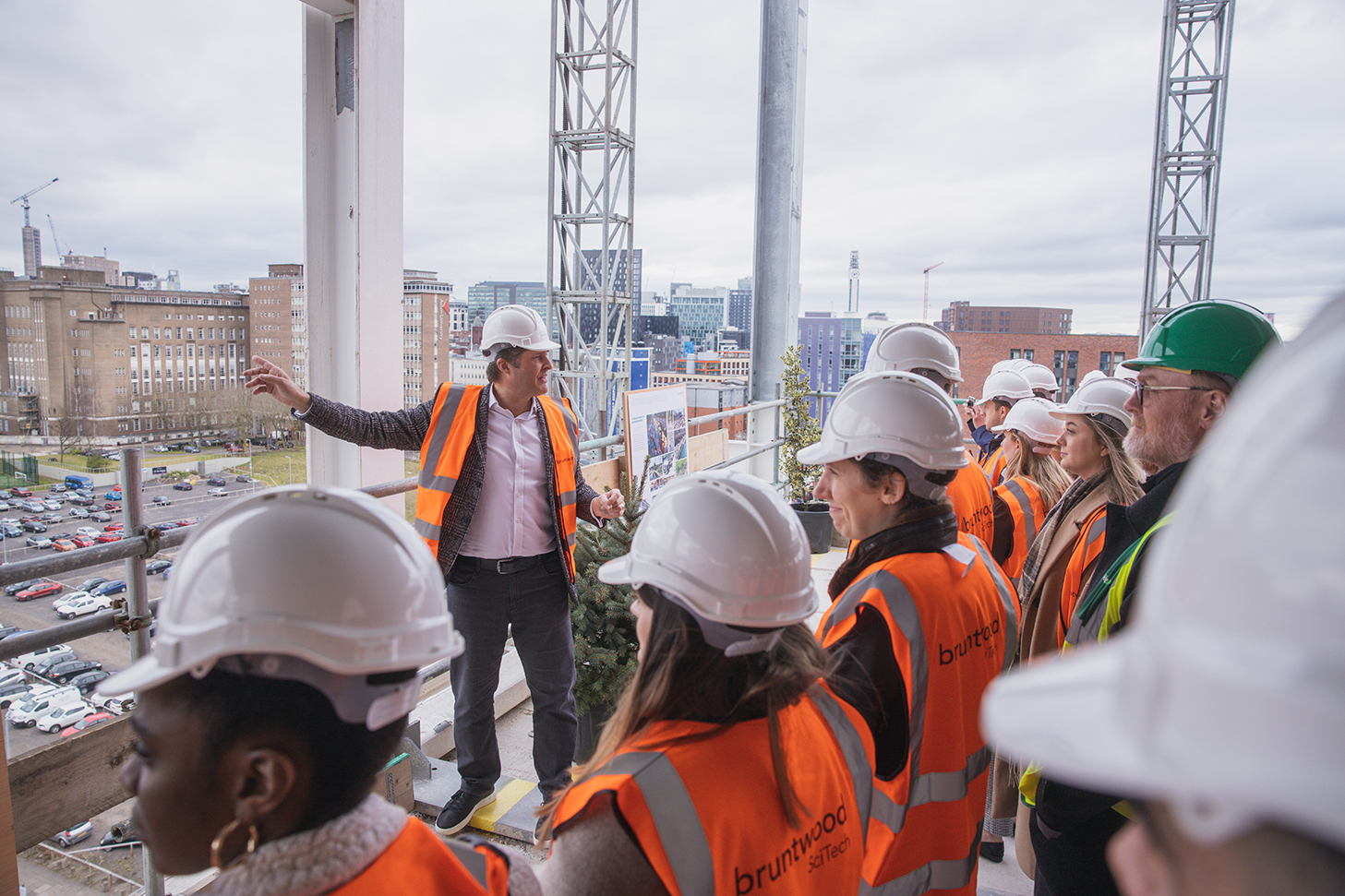 Businesses based at Enterprise Wharf will benefit from its position within Bruntwood SciTech's existing Innovation Birmingham campus, a vibrant tech ecosystem which provides coworking, office space and business support to digital and tech businesses to form, scale and grow. The complex is already home to 150 start-ups, scale-ups and global corporates operating across fintech, cyber security, AR, VR, blockchain, sports tech, edtech, among other tech and digital subsectors.
Enterprise Wharf is a short walk from HS2's Curzon Wharf station which is at the heart of the B:KQ regeneration area. Additional development alongside HS2 will deliver 3,420 homes, as well as new retail and leisure amenities – including independent bars and retailers all within a newly master planned district.
In homage to Enterprise Wharf's local community of sustainable suppliers, attendees enjoyed a street food reception and sampled beer brewed specially for the ceremony by local brewers Birmingham Brewing Co.
Jamie Clyde, regional director – South at Bruntwood SciTech, said:
"Fast-growing tech and digital businesses thrive from proximity to one another, and it was fantastic to see Enterprise Wharf already unlocking new relationships. Occupying a prominent gateway position on the main route into Birmingham, we're confident that Enterprise Wharf will play its role in making the Knowledge Quarter one of the country's most exciting new innovation districts. Birmingham's Knowledge Quarter will offer a vibrant 24/7 district to Birmingham's burgeoning tech sector."
Ronan Hughes, GRAHAM Regional Director said:
"Topping out at Enterprise Wharf is a symbolic moment for us as it shows how fast we've come in a relatively short space of time. We have put our digital construction skills to the test on this project, implementing our intelligent construction methodology and programme to add value to the build. We pride ourselves on staying in front of the latest innovations and technologies, and this project has allowed us to demonstrate all these skills and learnings in one place. As we edge closer to the completion date, we are starting to see this ambitious project become a reality and we can't wait to show off the end result."
Businesses based at Enterprise Wharf will be able to access Bruntwood SciTech's UK-wide network of innovation districts, allowing them to collaborate with a 500-strong specialist community of tech and science businesses.