British Council for Offices ran its event at Belfast's BT's Riverside House, a GRAHAM Interior Fit Out project and the largest modernisation project to date here
The leading industry forum for best practice office spaces has hailed its first event here as a success in showcasing how the future of office spaces should look and function.
The British Council for Offices (BCO), supported by construction company GRAHAM Interior Fit Out, hosted its 'BCO Northern Ireland Talk and Tour of BT HQ and Talk on new BCO Specification Guidance' at BT's Riverside House building in the city earlier this month.
GRAHAM Interior Fit Out, the firm behind the fit-out of the multimillion-pound project, was one of the sponsors enabling the event.
Mark Gibson, Managing Director of GRAHAM's Interior Fit-Out division said:
"We were delighted to support BCO's inaugural event in Northern Ireland at the impressive BT Riverside House in Belfast. The decision to host the event there is an endorsement of how forward-thinking the space is, showcasing the latest technology, flexible working and collaboration areas that go towards establishing this building as a benchmark for offices of the future."
Hillsborough-headquartered GRAHAM Interior Fit-Out completed BT's Riverside House in December, in what was its fourth contract with the communications giant, BT, and its largest to date.
Completed within 54 weeks and on schedule in December 2022, GRAHAM stripped out and refurbished 13 floors in an upgrade that created 160,000 sq ft of new office space to accommodate more than 2000 BT employees.
One hundred and thirty construction specialists were hired during the live project while nine apprentices were brought on board.
Ninety per cent of all materials were sourced locally with a total of 48 key deadlines achieved on time, including sectional completion, beneficial use dates and handover.
The BCO NI event sponsors also included TODD Architects, GRAHAM's partnering delivery architects and interior designers, Faithful Gould and multi-disciplinary engineering consultants, Cundall.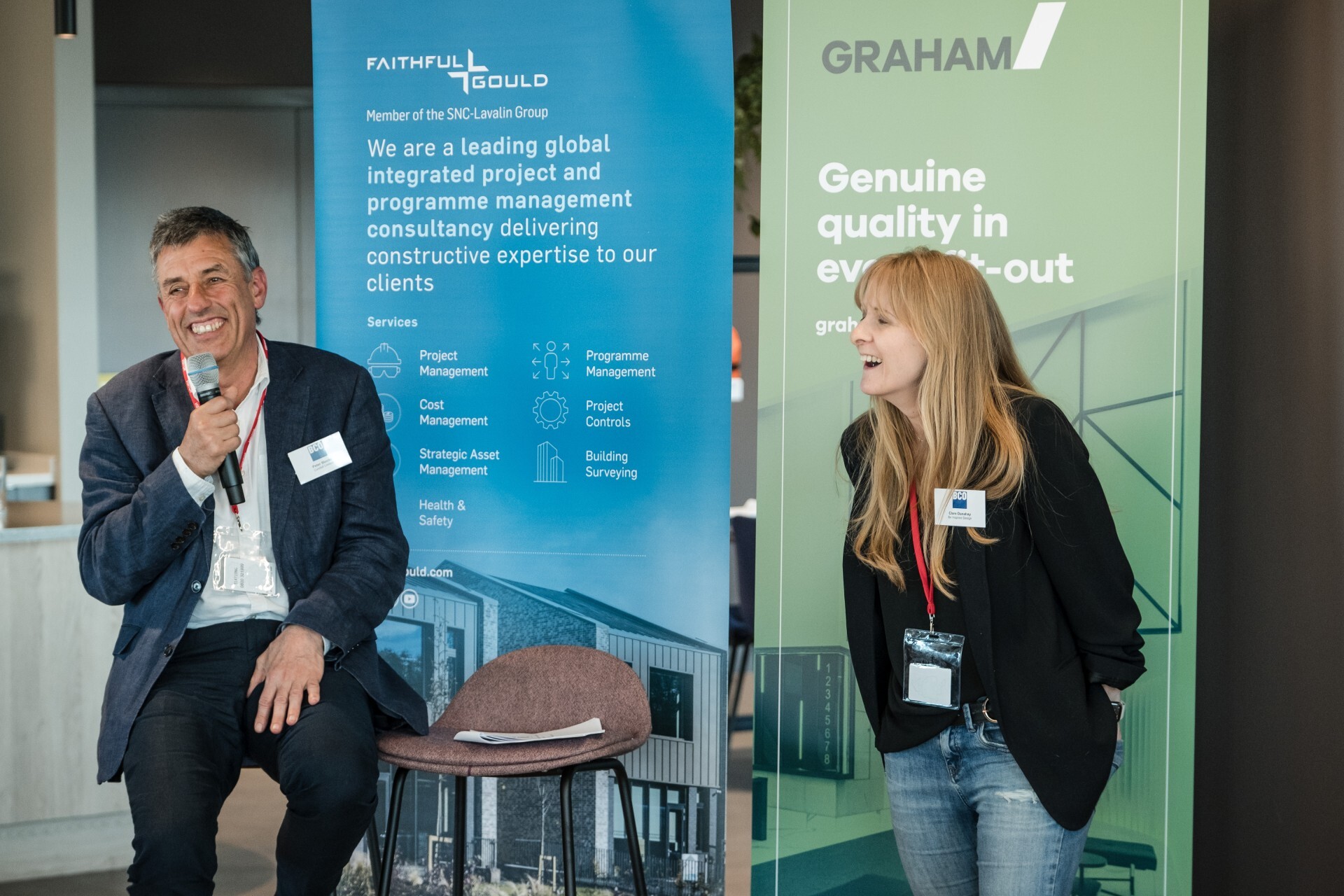 Speakers included Bonnie Cook, Associate Architect, Michael Laird Architects, the architects for the BT Riverside House project; Kirsty MacDiarmid, Senior Manager, UK Office Strategy, BT and Project Manager on Riverside House; Claire Danahay of Be Inspired Design; and Peter Stocks of Cundall, two of the contributory authors for BCO's new Specification Guidance.
Ruairi Dempsey, Associate Director of Cundall Belfast, said:
"The workplace is changing; in how we work, where we work and how we collaborate. It is critical that the modern office and workplace environment keeps pace with the needs of both businesses and employees or it faces being left behind and out of the race.
"BCO strives to set those standards through the research and publication of best practice guidance for office development fit-out. Coupled with the necessity to minimise and manage the whole-life impacts of carbon, and optimise energy consumption within building construction and operation, our industry faces crucial challenges in the immediate future. Key to overcoming these challenges whilst also implementing best practice, is thorough, clear and comprehensive communication of the context, challenges, opportunities, and potential solutions. Events like the inaugural BCO NI event at BT Riverside, where great speakers shared their experiences in best-in-class surroundings, are key to the success of the entire industry."
Among the guests at the recent BCO event were the group's members which include organisations involved in creating, acquiring or occupying office space, including architects, lawyers, surveyors, financial institutions or public agencies.
Peter Minnis, chair of the BCO NI sub-group, said:
"It was superb to see the BCO hold its first event here in Northern Ireland and at such a fitting location. The BCO's fundamental aim is to research, develop and communicate best practices in all aspects of the office sector; the new Specification Guidance we have recently launched is a significant piece of work that will help to inform the real estate sector on how we can best create sustainable workplaces which are fit for purpose both now and in the future.
"We would like to thank everyone involved in helping to arrange this event and we hope that it is the first of many more to come."