Kenny Gardner is well accustomed to life on the road.
As Operations Director for our Interior Fit-Out Division, travel throughout the UK and Ireland is a prerequisite in a demanding role that involves overseeing the delivery of a broad project portfolio.
But, even by his own standards, the next few weeks are going to be intense.
This weekend he's off to Roggenburg in Switzerland. Next week its Vesoul, France before a visit to Denmark in late September.
For Kenny, this forthcoming European odyssey is a labour of love. The reason being, it's all about his passion – sidecar motocross racing.
Sidecar motocross is a branch of motocross that involves crews of two, a driver and a sidecar passenger, competing against fields of up to 30 competitors around dirt tracks of varying terrain and gradient profile.
Average speeds are roughly 30 mph, although on straights they can approach 80 mph, while crews can be catapulted over eight metres in the air transitioning from a hill to the flat.
It's not for the faint-hearted.
European Nations
The season is now entering its climax with the highly-anticipated 'Sidecarcross of European Nations' taking place in the town of Slagelse in Western Denmark (September 22nd-23rd).
Having spent over 40 years in the sport, Kenny's expertise has been recognised by the Motor Cycle Union of Ireland (MCUI) Motocross Commission who have appointed him as Team Ireland Manager for the prestigious event.
"This will be the seventh event where I have been Team Manager and it is always a great honour," said Kenny who joined GRAHAM in 2012.

"As sidecar motocross is dominated by European racers, the European Nations event is effectively the world championships so it is the pinnacle of the sport.

"I'm really looking forward to the competition. We have selected a strong team and, although they'll be competing against a host of full-time professionals, in comparison to our effectively amateur status, they'll be fearless in their pursuit of a top ten finish."
In 2015, Kenny led Team Ireland to a seventh-place finish – the highest ever position by an Irish team.
This year's squad is made up of three crews of two namely Gary Moulds/Steve Kirwin, Neil Campbell/Craig Parmenter and cousins Geoff Ingram/David Ingram. Each crew will have an initial qualifying heat before hopefully progressing to the final.
GRAHAM sponsored
We sponsored Gary (Moulds), who rides a 690 AMS KTM engine VMC machine in partnership with Steve (Kirwin), is the reigning Irish champion, and also British Experts champion.
"At GRAHAM, we are committed to supporting local communities and we recognised Gary's talent and dedication, so we felt that he was a deserving sportsman to support and get behind," added Kenny who was President of the MCUI in 2002.

"Sidecar motocross is very much a minority sport and the costs can quickly mount up in terms of the machinery, kit etc. and therefore any assistance is gratefully received by the competitors.

"It takes a tremendous amount of hard work and discipline to reach the highest level in this motorsport. It also takes a lot of team-work and trust between the rider and passenger.

"The camaraderie in this sport is something special although when the racing begins the competition is ruthless. I'm confident our crews will make a real impression in Denmark and will work tirelessly to mix it with the world's best teams."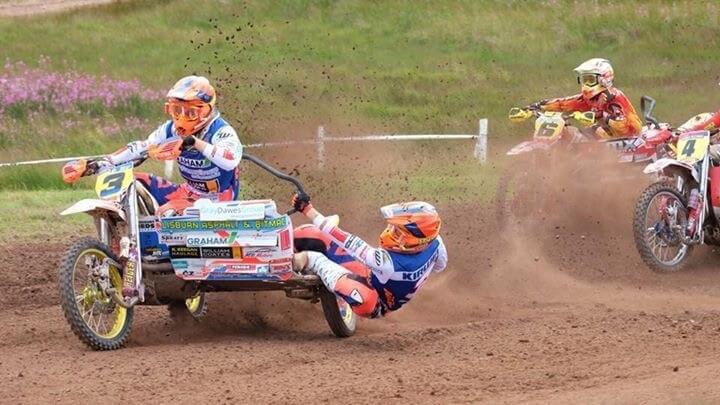 Interior Fit-Out
In between managing the preparations and logistics of sidecar motocross teams, Kenny is the Operations Director of our Interior Fit-Out Division.
In achieving an £80m turnover, this Division has completed some 300 multi-disciplinary projects throughout the UK and Ireland and has grown from an initial team of one to a pool of 90+ colleagues in a six-and-a-half-year period.
Having spent his entire career in the construction industry, Kenny has enjoyed over 20 years in the Interior Fit-Out sphere specifically.
"I joined GRAHAM in 2012 and have enjoyed every moment of it. The Interior Fit-Out Division is one big team and I think a major part of our success is working collaboratively with our clients," concluded Kenny.

"We build strong relationships and because of that clients consistently come back to us because we listen to them. For example, I've completed a lot of projects in the retail sector and our approach is always focused on minimising any disruption to clients and their customers. Customer service is paramount, and we pride ourselves on achieving the highest levels of satisfaction."
More information
For a deeper insight into our Interior Fit-Out operations visit https://www.graham.co.uk/expertise/interior-fit-out or to contact Kenny directly click https://www.graham.co.uk/expertise/interiors/kenny-gardner