GRAHAM is adding two more sustainability awards to its collection, with the Royal Jubilee Maternity Service winning 'Built Environment Project of the Year' and our own environment team picking up 'Sustainability Team of the Year' at the Business Eye Sustainability Awards.
With representatives from across all industries in Northern Ireland, including food and drink, hospitality, tourism, manufacturing and retail, the calibre of entrants for the inaugural event was vast and exceptional.
ROYAL JUBILEE MATERNITY SERVICE: BUILT ENVIRONMENT PROJECT OF THE YEAR

GRAHAM BAM Healthcare Partnership picked up the 'Built Environment Project of the Year' award for its construction of the Royal Jubilee Maternity Service, in recognition of its commitment to sustainability and conservation.

The site team worked to reduce the environmental impact of the construction at all stages of the project. Early on an opportunity to reuse 1,230m3 of excavated material for backfilling in another part of the site was identified, successfully resulting in 98% of waste being diverted from landfill.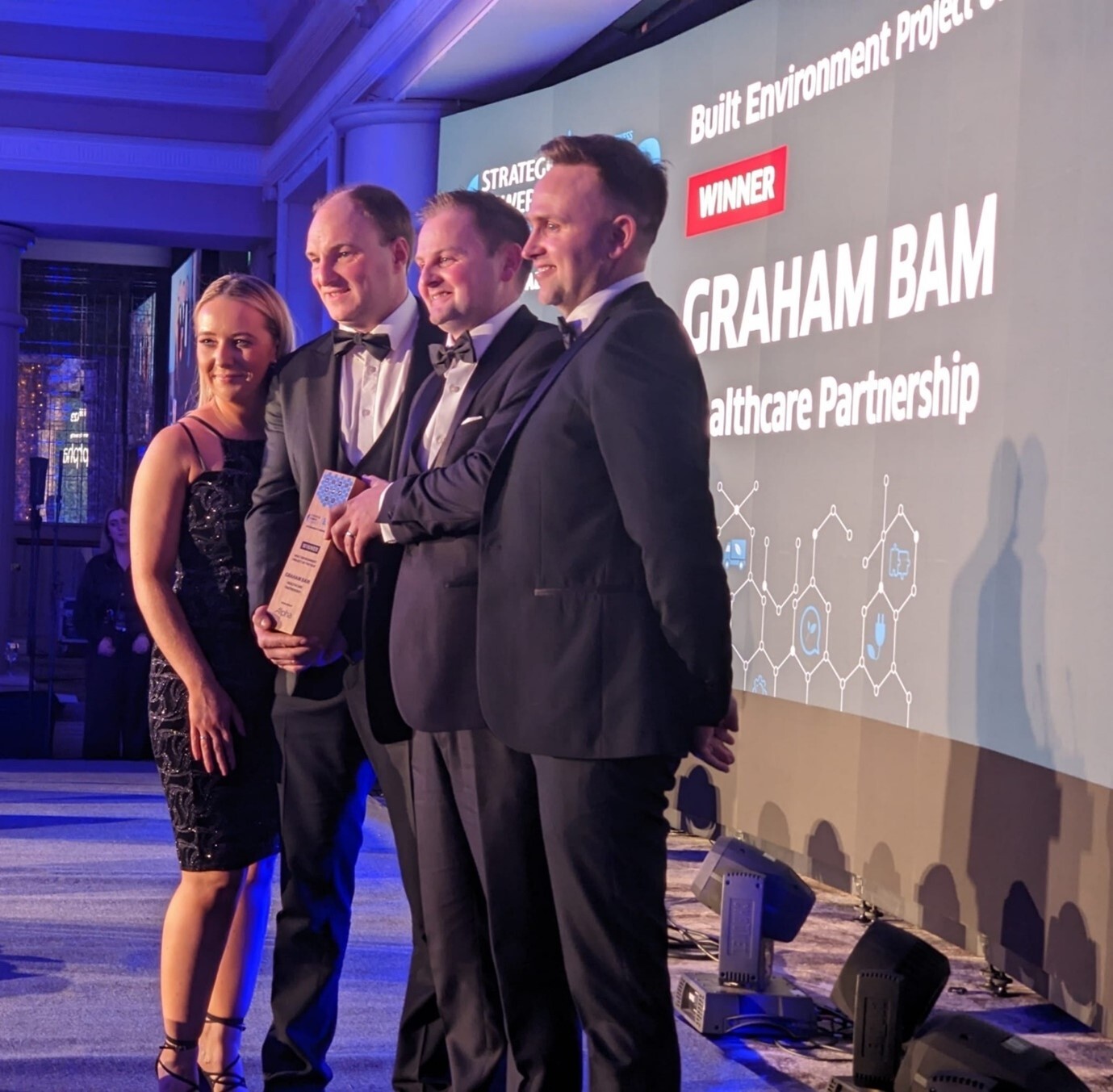 A concerted effort was also made to ensure that the mature trees on site were protected and retained. Despite the initial challenges the existing trees posed, these were quickly resolved through training and clever engineering solutions that helped to maintain and provide structure for the native soft landscaping.
Throughout the project, the site team effectively minimised dust by commissioning a flexible sprinkler system which ensured water efficiency. Dust suppression is a critical element whilst working in a live hospital environment to prevent the spread of aspergillus.
The site team also worked closely with the client to ensure any works carried out made provision for future infrastructure upgrades to the site. This future proofing enabled the team to build-in resilience and sustainability so the new Maternity Hospital will continue to deliver improved health outcomes for service users for many years ahead.
GRAHAM - SUSTAINABILITY TEAM OF THE YEAR
At GRAHAM, we believe that the diversity of our people - their skills and abilities - is the foundation of our success. With the Environment team being awarded 'Sustainability Team of the Year' this is further testament to the strength and skillset of our people who always strive to be the best in class through continuous professional development, innovation and hands-on experience.

Congratulations to Andrew Cooke (SHE Director), Lianne Taylor (Head of Environment) and the entire Environmental Sustainability team (Rosie Barnett, Jayne Walker, John McGrory, David O'Hagan, Fiona Walker, Keith O'Flynn, Ciara Grogan, Jack Mitchell, Rebecca Woods and Hannah Catterson) for their deserved win. The team work across GRAHAM to help the business deliver its green goals, decarbonise its activities and deliver positive environmental impacts.