Leading contractor shines a light on its dedicated apprentice scheme throughout Scottish Apprenticeship Week 2023
The Scottish construction industry is experiencing a significant skills shortage and in a bid to bridge the gap, GRAHAM is investing in its dedicated apprenticeship scheme to future-proof the talent pipeline.
As part of Scottish Apprenticeship Week and Women in Construction Week, the contractor is shining a light on the invaluable academic and workplace opportunities it provides to encourage people from non-traditional routes into construction.
Five GRAHAM apprentices joined forces at the flagship Candleriggs Square development in Glasgow's Merchant City, currently under construction by GRAHAM to deliver a luxury urban quarter, to celebrate Scotland's next generation of the construction workforce.
This includes Michelle Jeffrey (20), who currently works on the PLATFORM_ Glasgow scheme as a trainee engineer whilst completing a graduate apprenticeship in civil engineering at University of Strathclyde.
Lucy Threlfall (16) joined GRAHAM as an apprentice administrator before also going on to become a trainee engineer at PLATFORM_ Glasgow, whilst starting an NC Civil Engineering apprenticeship at Glasgow Kelvin College.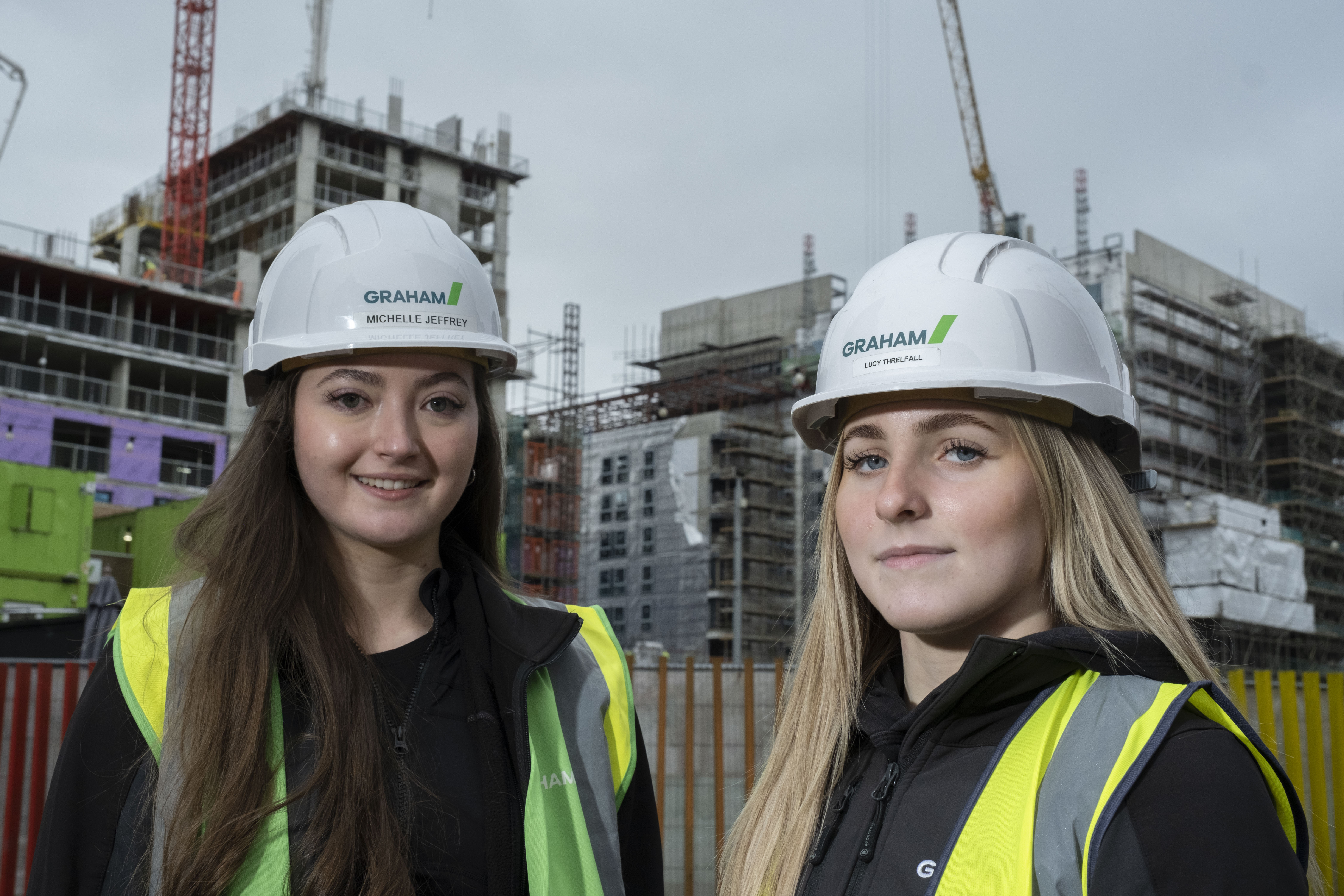 After completing her HNC in Civil Engineering at Glasgow Kelvin College, Alexis Smith (21) now works at GRAHAM as a trainee planner and is enrolled on the civil engineering graduate apprenticeship course with University of the West of Scotland.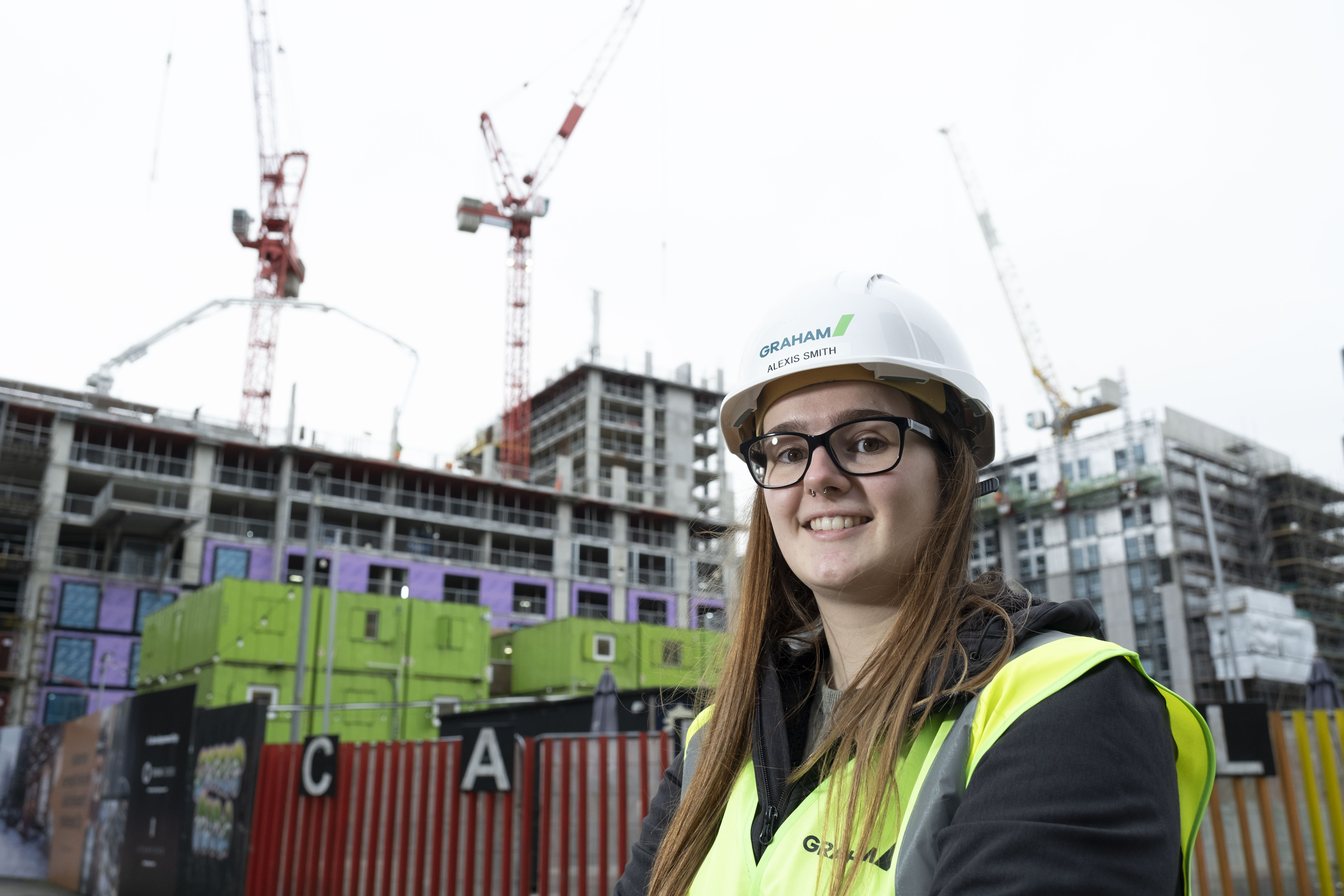 Morgan Williams (17) joined fresh from secondary school as a trainee quantity surveyor (QS) and is now enrolled on the graduate apprenticeship programme with Heriot-Watt University whilst also working on GRAHAM's student accommodation scheme on Montrose Terrace, Edinburgh.
Swapping the skies for construction sites, Lynsey Kirk (22) was made redundant from her air hostess role during the pandemic before realising her potential as a quantity surveyor. GRAHAM originally onboarded Lynsey as a framework co-ordinator before supporting her into a role as trainee QS and she is now progressing with the graduate apprenticeship programme at Glasgow Caledonian University.
Lynsey, from Hamilton, said:
"After being made redundant from my air hostess role during Covid, I was at a crossroads looking for the best next step for my career. In my early 20s, it was challenging to know what to do next, but after I was introduced to the GRAHAM team, they opened a door to a career in construction that I'd never considered before.
"The mix of on-site practical experience and degree-level education is a fantastic way to get to grips with the role properly, and I will feel confident stepping into a full-time role with GRAHAM after graduation in 2026. It gives me great peace of mind to know that I have guaranteed employment after completing my degree and I'm excited to progress a successful career in the Scottish construction industry."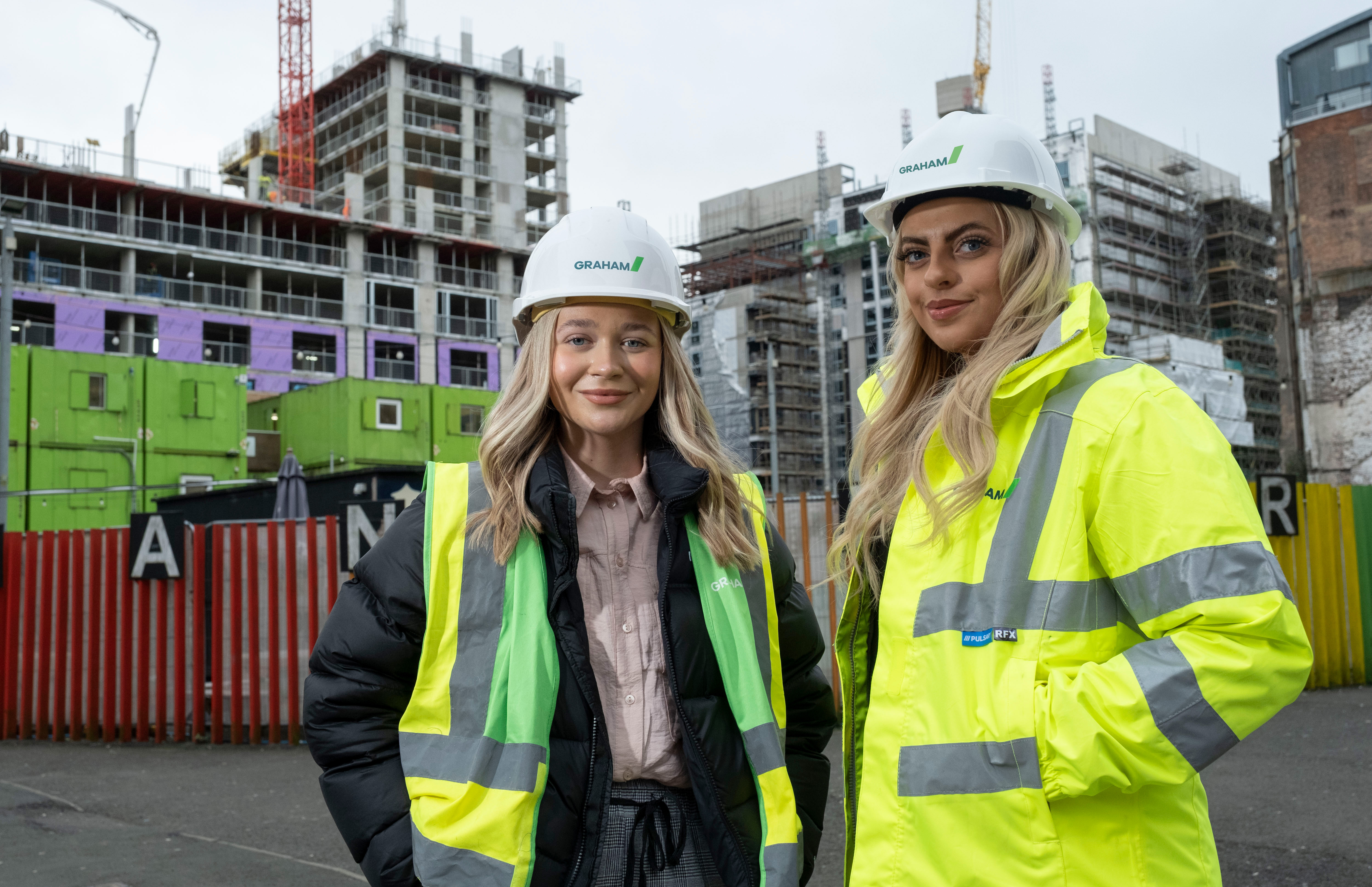 In total, GRAHAM has 27 young people in Scotland signed up to a formal apprenticeship programme and has a further 10 opportunities coming available throughout 2023 in engineering, site management and planning.

Given the number of young people in its Building North region, last year GRAHAM established the Young Persons Forum, which is led by Building North managing director, Gary Holmes. The group meets on a quarterly basis to ensure that the voices of tomorrow's construction leaders are heard and that they have the opportunity to make meaningful contributions to the future of GRAHAM.
Within the region, GRAHAM also has 25 science, technology, education and mathematics (STEM) ambassadors, who actively visit schools and colleges to promote the industry.
Debbie Rutherford, Social Impact Manager for GRAHAM Building North, said:
"The construction industry is experiencing a real skills shortage. There is a concerning lack of qualified people available to fill vacancies, and in a bid to address this, GRAHAM has made a significant investment in the training and upskilling of colleagues with the aim of building future talent – and retaining existing skills for the company.
"It has been well documented that the candidate pool of construction workers is shrinking at an unsustainable rate, and long-term solutions are required. Therefore, earn as you learn schemes, such as the Graduate Apprenticeships, are critical for employers.
"We are finding many benefits. Our apprentices are not only obtaining qualifications, but they are also gaining invaluable experience which benefits us as an employer. The knowledge our colleagues are acquiring is being applied on sites, which brings positive change through fresh new methods and different ways of thinking. Very importantly, Graduate Apprenticeships are also opening up the industry to new demographics and creating a diverse and inclusive workforce."