We are delighted to have been able to offer Carrickfergus Model Primary School students with a unique insight into a career in construction as part of a Considerate Constructors Scheme (CCS) community engagement programme.
30 pupils, aged between six and seven, enjoyed an action-packed day of learning which culminated in a behind the scenes tour of the new Marks & Spencer food outlet in Carrickfergus.
We started work on site in June 2019 and is scheduled to finish work at the end of July, with the new store opening in August 2019.
The Considerate Constructors Scheme (CCS) is a non-profit-making, independent organisation founded by the construction industry.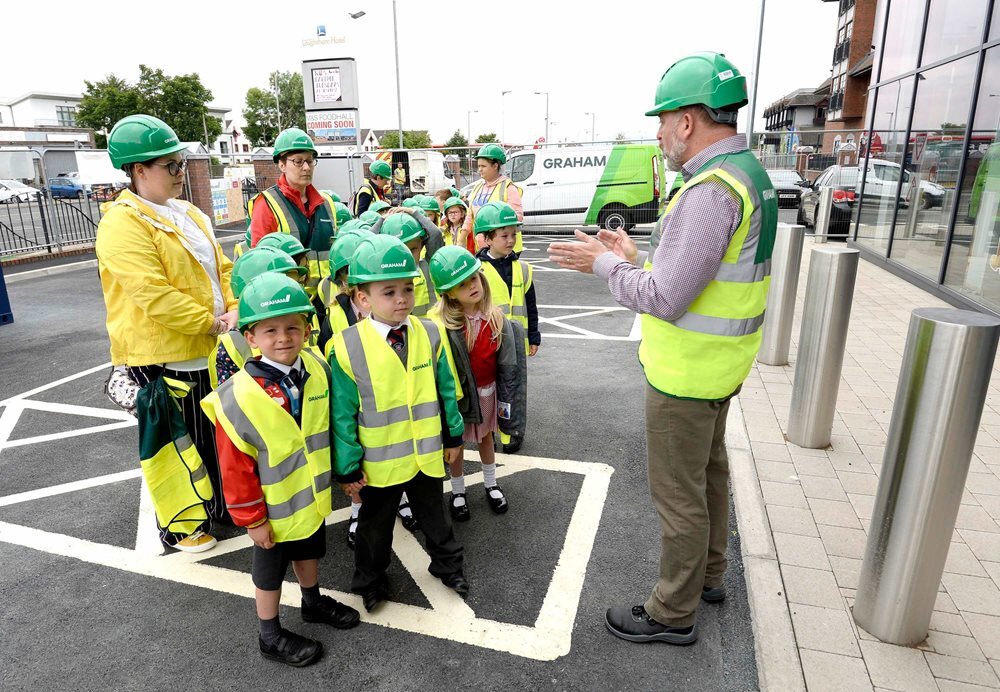 Construction sites, companies and suppliers voluntarily register with the Scheme and agree to abide by the Code of Considerate Practice. This commits sites, companies and suppliers to care about appearance, respect the community, protect the environment and secure everyone's safety and value their workforce.
Mark Gibson, Managing Director of our Interior Fit Out division, discusses the school visit:
"The construction industry in Northern Ireland is a valuable source of employment and it is important that our young people understand and appreciate the type of careers that it can provide.

"The students from Carrickfergus Model Primary School were told about the importance of health and safety on site and how different types of protective equipment such as hard hats; high visibility jackets; protective gloves; goggles; and steel toe-capped footwear are used to keep workers safe. They were also shown why the warning signs on a site are so important and how these can help to prevent accidents."
Wonderful time
Thanking us for facilitating the site visit, Mrs Jenni Miller, principal, Carrickfergus Model Primary School, said:
"The children had a wonderful time learning about the construction work and were able to talk about what they had been learning during their visit. They were excited to see the new store before their parents. Thank you for organising this community visit for them."