GRAHAM, one of the UK's leading contractors, and Europa, a pioneer in pan-European real estate investment, are a step closer towards delivering 203 new homes for the private rented sector in Birmingham as the Crown Works development reaches its topping out milestone.
Developed by Xian Developments for Europa, the scheme will provide a collection of one, two, and three-bedroom apartments available to rent in a strategic location near Birmingham Snow Hill train station and the Colmore Business District.
Complementing the living spaces, the development encompasses two ground-floor commercial units comprising 3,700 sq ft in addition to 5,900 sq ft of versatile amenity space. Envisioned as a hub of convenience and luxury, the amenity space is tailored to residents' needs. Among its offerings will be a dedicated concierge service, a gym, a co-working area, and a private dining section. Residents will have access to panoramic views of the skyline from the private roof terrace, and those residing in the three duplex apartments will benefit from their own individual terraces.
The Crown Works will feature rooftop solar panels and an eco-conscious design that aligns with modern environmental standards and will contribute significantly to the development's impressive EPC rating of B. Furthermore, the project is on track to achieve a BREEAM Excellent rating on completion, underscoring its dedication to both quality and sustainability.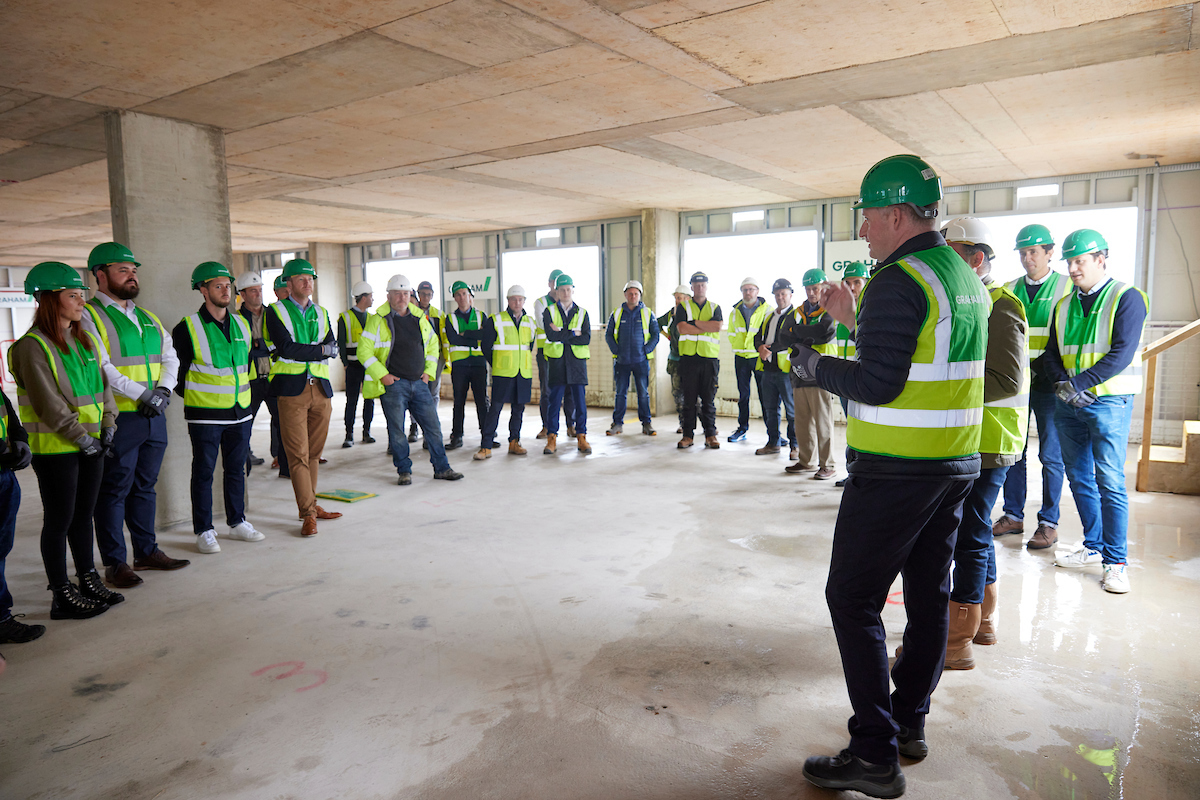 Joshua McGuinness, Director of JMGL, representing Xian Developments, said:
"We're really pleased to have reached this meaningful milestone on the project and to be able to celebrate it with GRAHAM, Europa and all the team that have contributed to the project so far. The Crown Works is our first of several Build to Rent projects that we're delivering in the Midlands, and we're delighted to be contributing 203 high quality residential units to Birmingham's housing stock."
Ronan Hughes, GRAHAM Regional Director – Midlands, said:
"The topping out ceremony at The Crown Works is a significant milestone toward its completion. Birmingham's demand for upscale housing, especially in such a strategically connected area, is undeniable. We are delighted to support this demand by helping to deliver premium homes for the city's private rented sector. Our familiarity with the region, highlighted by our involvement in significant projects like the Grand Hotel, positions us well to embrace the city's growth and contribute to its future development."
Ed Crockett, Head of Residential Investment, Europa, said:
"The topping out of Crown Works brings us one step closer to delivering these high-quality homes for rent, developed with affordability, community and environmental performance at their core. We continue to progress the scheme to completion, working closely with GRAHAM and Xian Developments."