A new social digital platform developed and implemented by GRAHAM's Internal Communications team has been shortlisted for two national awards. The Hub, which launched in November 2022, has been recognised in the 'Best Intranet' and 'Best New or Relaunched Channel' categories for the Institute of Internal Communication Awards. In addition, the Hub is also shortlisted for the Chartered Institute of PR's 'PRide' Awards in the 'Internal Communications Campaign' category.
Two-way communication and 'togetherness'
Born from the feedback of our employees and their appetite for change, the Hub was delivered after months of research, colleague engagement, testing and hard work. GRAHAM's Hub is now a dedicated communications platform for collaboration, information and knowledge-sharing between teams to provide a better and more engaging digital workplace experience.
Following the pandemic, GRAHAM's internal communications strategy was revitalised, with the Hub acting as the catalyst for positive change.
GRAHAM employees can now:
Connect and collaborate with colleagues throughout the business via desktop or mobile app
Access a wide range of multimedia content including blogs, animations, webinars, films and podcasts
Engage with content through liking, sharing and commenting
Personalise their newsfeeds and notification preferences
Shout-out to colleagues in recognition of a job well done
Benefit from information, apps and frequently used tools being available in a central hub
Engagement and evaluation
The Hub has delivered impressive results, with key highlights including:
581% increase in likes from colleagues in the first month alone
155% increase in volume of posts since launch
716% increase in story views since launch
Uplift in mobile app adoption from 1% to 32%
Successful implementation is evident through excellent feedback from across the business, with comments such as:
"Just signed up to the Hub....WOW... what a different look and feel to the old Hub...well done."


"You have solved a LOT of problems, creating one Hub page focuses the entire company."


"The Hub has huge potential to improve internal communications and to promote collaborative working within the organisation - let's tap into that."


"I personally think the new Hub is so much better. It's very interactive so you only get out of it what you put in. For me, it's so much more user friendly."
Internal communications within GRAHAM have completely transformed; from colleagues accessing information on a need-to-know, one-way basis, to now communicating and engaging with content and with each other, through a central Hub.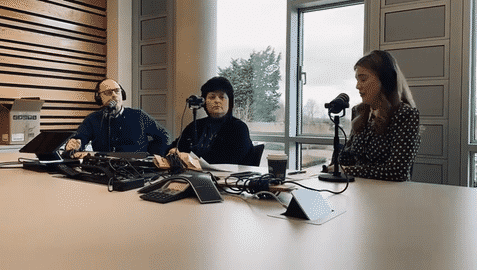 "The research, dedication and creativity that went into our new GRAHAM Hub was nothing short of gargantuan."
Amy Close, GRAHAM's Head of Internal Communications, spearheaded the change. She dedicated time to research, gathering honest feedback and undertaking continuous improvement – which is why the Hub works for employees – it's tailored to the needs of our key stakeholders.
Amy Close commented:
"Our team's mission is to celebrate 'the people behind the projects' in GRAHAM. Therefore, it was important that we took the time and effort needed to gather invaluable feedback and suggestions from our employees, to better understand their needs and deliver a solution that would enhance engagement and the overall employee experience in GRAHAM.
"The research, dedication and creativity that went into our new GRAHAM Hub was nothing short of gargantuan. In total we spent nine months in research, followed by four months of planning, and finally 310 hours spent on design and content creation in just four weeks.
"I'm pleased to say that the new Hub has truly transformed the way we communicate in GRAHAM and has been instrumental in strengthening bonds between teams, aiding innovation and promoting peer-to-peer recognition.
"It's an honour to be recognised by the Institute of Internal Communication and the Chartered Institute of PR and we look forward to the award ceremonies later this year."
The shortlisting follows the announcement that GRAHAM has been reaccredited with Platinum status by Investors in People (IIP) – the highest level possible on the 'We Invest In People' accreditation framework.
Michael Smyth, Human Resources Director for GRAHAM, said:
"People are the heartbeat of GRAHAM and effective communication is essential to engagement and retention. The Hub is an excellent platform that allows the People Team to not only communicate information on the basics such as policies and benefits, but to interact with all types of employee so we can tailor our strategy to ensure GRAHAM remains a great place to work."