GRAHAM has started work on The Loft Lines Build to Rent (BTR) project at the Titanic Quarter in Belfast. It is the first BTR development in Northern Ireland. The milestone was marked by a groundbreaking ceremony held yesterday (12 September) to celebrate the progress made on the iconic site.
Key partners and stakeholders attended the event which was organised by Watkin Jones. Guests included representatives from Lacuna Developments, Legal & General, Clanmil Housing Association, Northern Ireland Housing Executive and Belfast City Council. Group CEO of GRAHAM, Andrew Bill, and Gary Holmes, Managing Director of GRAHAM's Building North region, joined the celebration, alongside members of GRAHAM's project team.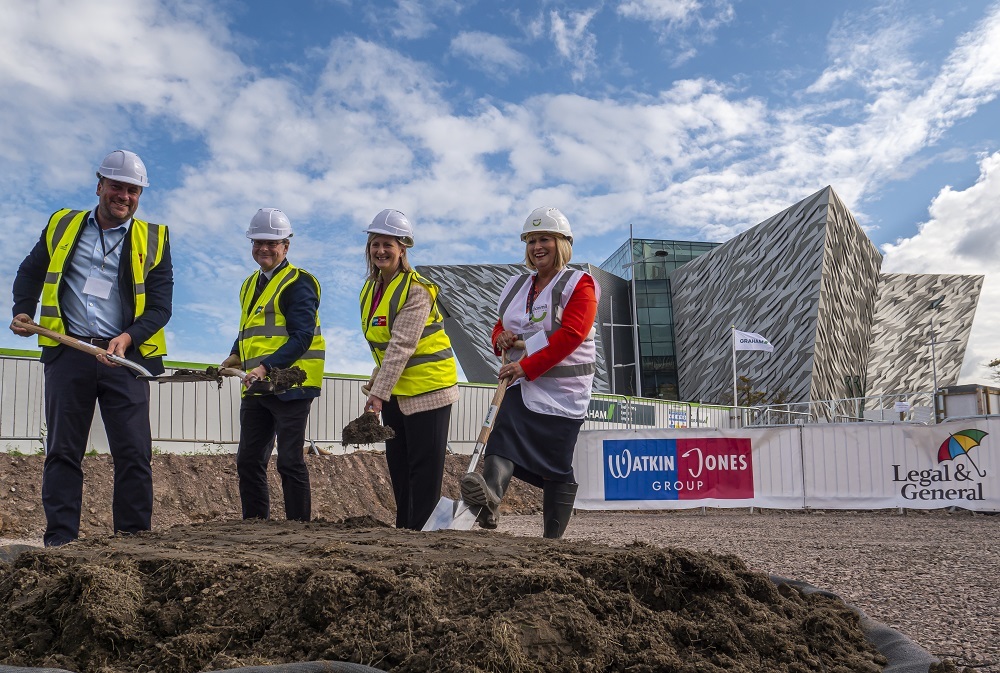 Forward funded by Legal & General, The Loft Lines will deliver 627 Build to Rent homes alongside 151 affordable homes – a mix of studios to three-bedroom apartments which will appeal to a range of people including families and young professionals. The development will also deliver social homes for Clanmil Housing Association.
Amenities at The Loft Lines include lounges, cinema rooms, sports and recreational spaces and children's play areas. Embodying a 'resident first' approach, pedestrians and cyclists have been prioritised over the use of cars within the development's designs – which also supports the city's aim to reduce its carbon footprint. Further sustainable features include the use of air source heat pumps.
Within walking distance to the city centre, residents at The Loft Lines development will be close to the range of amenities and leisure facilities Belfast has to offer. They will also benefit from good railway links to Dublin and to Belfast City airport, which is under three miles away.
George Dyer, Group Investment Director for Watkin Jones, said:
"Watkin Jones has a strong track record of developing large regeneration sites and we are delighted to bring the first Build to Rent scheme to the city of Belfast. Titanic Quarter is developing an area that is steeped in rich history, transforming this brownfield site into a thriving place to live and acting as a catalyst for wider regeneration.
"The development is being brought to fruition by a partnership approach between all stakeholders and funders and we are grateful for the genuine collaboration we have experienced with our partners. This event demonstrates the progress the teams are making for the city of Belfast."
Anthony Best, Managing Director of Lacuna Developments, commented:
"Lacuna Developments has been very active in Belfast over the last seven years developing residential led schemes. It is fantastic for Lacuna, alongside our development partners, to see GRAHAM on site bringing this development to life.

"We are also leading the way in bringing forward another first for the city in Build to Rent, social and affordable housing at The Loft Lines. Along with public realm, retail for the wider TQ community and a creche which the scheme will deliver, it is hugely exciting to be involved in the event."
John Godfrey, Director of Levelling up for Legal & General, added:

"It is widely accepted that greater investment in our regional towns and cities, particularly to deliver new homes, is needed. As our first scheme in Northern Ireland, this is an important and significant step. We strongly believe in the power of pensions capital and the role it plays in accelerating investment-led economic growth and unlocking much-needed regeneration in all parts of the UK. We hope The Loft Lines scheme will do just that for the regeneration of the Titanic Quarter, the local economy, and broader community of Belfast; we're delighted to mark the start of its journey."