HM Revenue and Customs (HMRC) has opened for business at its new office location in Belfast city centre.
Erskine House on Chichester Street is one of 13 new regional centres to open across the UK, which are part of phase one of the Government Hubs programme. The development is part of HMRC's transformation programme to become one of the most digitally-advanced tax authorities in the world.
Work began on the new eight-storey building in 2017 with our building and interior fit-out divisions both playing a part in bringing it to life.

The modern, hi-tech building will be home to around 1,600 HMRC employees. It will allow the department to work in new ways, delivering an effective service for customers and providing a modern and collaboratively working environment for civil servants.
HMRC will be the sole occupier of 104,052 sq ft of prime office accommodation, just a short walk from Belfast City Hall.
By moving to modern and smarter workspaces, HMRC will save more than £300 million by 2025 and will make annual savings of around £90 million by 2026.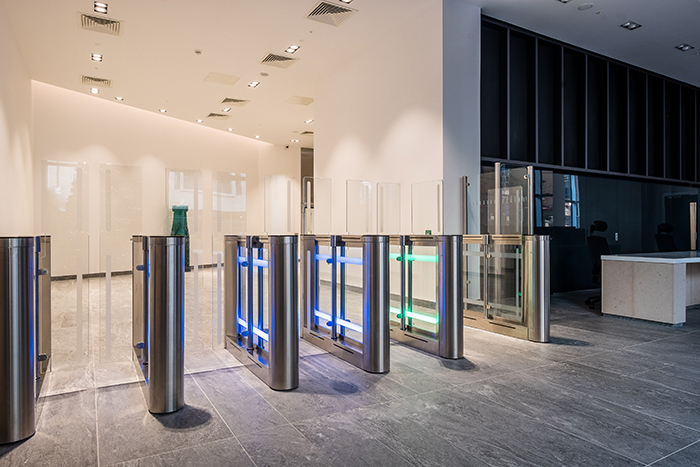 Michael Graham, our Group Executive Chairman, said:
"We were delighted to be awarded the building and interior fit out contracts for this prestigious eight-storey building. We hope that the state of the art and collaborative workspace will be a great place for HM Revenue and Customs (HMRC) employees to work.

"Erskine House is an iconic Belfast project and we were thrilled to play an instrumental role in reinvigorating this city centre space."
Jim Harra, Chief Executive and First Permanent Secretary of HMRC, said:
"The opening of Erskine House as the Belfast Regional Centre is exciting and marks an important milestone on a journey to transform the way HMRC operates and interacts with its customers.

"This modern building will bring teams together so they have the opportunity to work differently and more effectively.

"Crucially, it will deliver an efficient service for our customers, making HMRC a tax authority fit for the future."
Kevin McNaull, Senior Project Manager at Turner & Townsend, HMRC's strategic partner in the build, said:
"As strategic delivery partner, Turner & Townsend have provided a full range of services to HMRC on the Locations Programme and particularly successfully on the new Belfast Regional Centre.

"Achieving initial occupation on programme and budget has been an incredible achievement on this large, challenging and complex project and testament to the hard work and collaborative approach across the team.

"To do this and receive such positive feedback from staff is fantastic and will help to drive further efficiencies and improvements as more Regional Centres in the programme are completed."