A memorial has been unveiled to honour the victims of a plane crash 75 years ago – which included the legendary 'Dam Busters' bomber designer Roy Chadwick.
The memorial information board was dedicated at a Remembrance Day ceremony beside the new £53m Poynton Relief Road – which is to be named Roy Chadwick Way after the famous local Avro aircraft engineer who created the Lancaster bomber – of 'Dam Busters' fame.
A modified version of the Lancaster was used in a daring May 1943 raid using 'bouncing bombs' to destroy key Ruhr dams and flood huge areas of the German war economy. The raid was immortalised in the 1955 film The Dam Busters, starring Richard Todd and Michael Redgrave.
Tragically, Chadwick died on 23 August 1947, along with three other crew members – pilot Bill Thorn, co-pilot David Wilson and radio operator John Webster – in a crash during take-off from Woodford Aerodrome in a prototype Avro Tudor 2 G-AGSU.
The accident was due to an error in overnight servicing of the steering controls. The memorial is located near the site of the crash.
The unveiling and wreath-laying ceremony was attended by representatives of the local councils, engineering contractors Graham, Avro Heritage Museum and local housing developer Harrow Estates – which contributed to the cost of the memorial.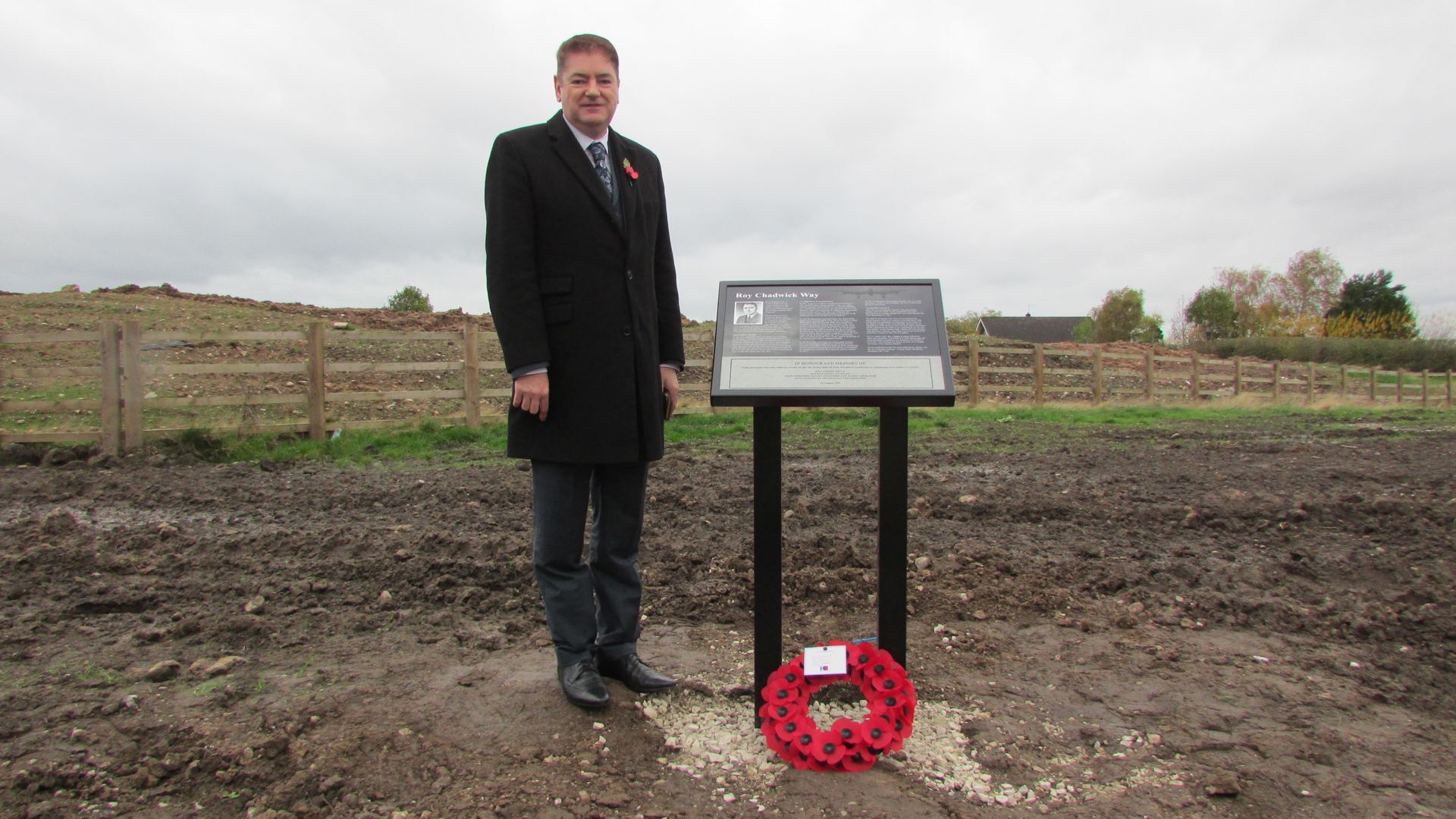 Councillor Craig Browne, deputy leader of Cheshire East Council and chair of the authority's highways and transport committee, said: "In the 75th anniversary year of these tragic deaths, and with the new Poynton Relief Road to be named after one of these brave pioneers of flight, it is only fitting to have a memorial to honour their sacrifice, so near to where they tragically died.
"Roy Chadwick is rightly remembered as a true visionary, whose nationally-important aeronautical creations spanned the eras of flight, from the earliest wooden and canvas biplanes to jet aircraft."
Roy Chadwick Way, when opened, will relieve Poynton and neighbouring areas of high traffic volumes and congestion, as well as improve air quality for residents and open up employment land. It is being developed by Cheshire East Council, working in partnership with Stockport Council and delivered by civil engineering contractors Graham.
The 3.5km road will include two overbridge crossings for use by walkers, cyclists and farm vehicles and a 3.5m-wide combined cycle and footway, which will run beside the length of the route in the western verge. The road is expected to open in early spring 2023.
Cheshire East Council contributed £21m towards the cost of the road scheme with Cheshire and Warrington Local Enterprise Partnership providing £5.6m from the government's Growth Deal and the Department for Transport providing £16.4m. A total of £7.7m is planned to come from developer contributions.
Find out more information about the Poynton Relief Road and read the latest updates here.