We've unearthed a unique piece of history during our conservation and extension programme at Lincoln's Inn
The Honourable Society of Lincoln's Inn (Lincoln's Inn) is steeped in history.
Although its exact origins "are not fully known", formal records go back "continuously to 1422".
Indeed, there is evidence that the Inn had been in existence "for some time" even before these records, known as the "Black Books", began.
An "unincorporated" association of students, barristers and judges, Lincoln's Inn is one of the four Inns of Court and is housed in an 11-acre estate situated within the Bloomsbury Conservation area in central London.
In what is the biggest single project since its original 19th century construction, we are carrying out a major, £20m conservation and extension programme to Lincoln's Inn's Grade II* listed Great Hall (1845) and Library (1873).
In parallel, we are constructing two extensions to add to the Inn's educational facilities.
The scheme is scheduled to be complete in mid-April 2019.
"Message in a bottle"
Over the course of our complex works programme (beginning July 2016), we unearthed a small piece of history in the form of a "message in a bottle".
Perhaps not as grandiose, or valuable in the monetary sense, as some of the Inn's multiple artefacts and manuscripts, but a welcome insight into the past, nonetheless.
Two members of our supply chain, Jay Harrison (23) and Tony Mattin (39), uncovered the bottle while installing a new lighting system at the Great Hall.
Within it was a note, left by an apprentice carpenter Mr. L Saunders, dating back to June 7th 1955.
Its contents read:
"This message was put in this bottle by L Saunders, age 19 of Hendon, on June 7th 1955. I am a (sic) apprentice carpenter and joiner working for Dove Bros Ltd. of Islington.

"I am getting paid 3-1¼ an hour working from 8 to 12.30 12.30 to 6.30. We are repairing the roof patting in one new principal rafter, several purlins and renewing windbraces.

"Hope this interests someone, if only an atom bomb".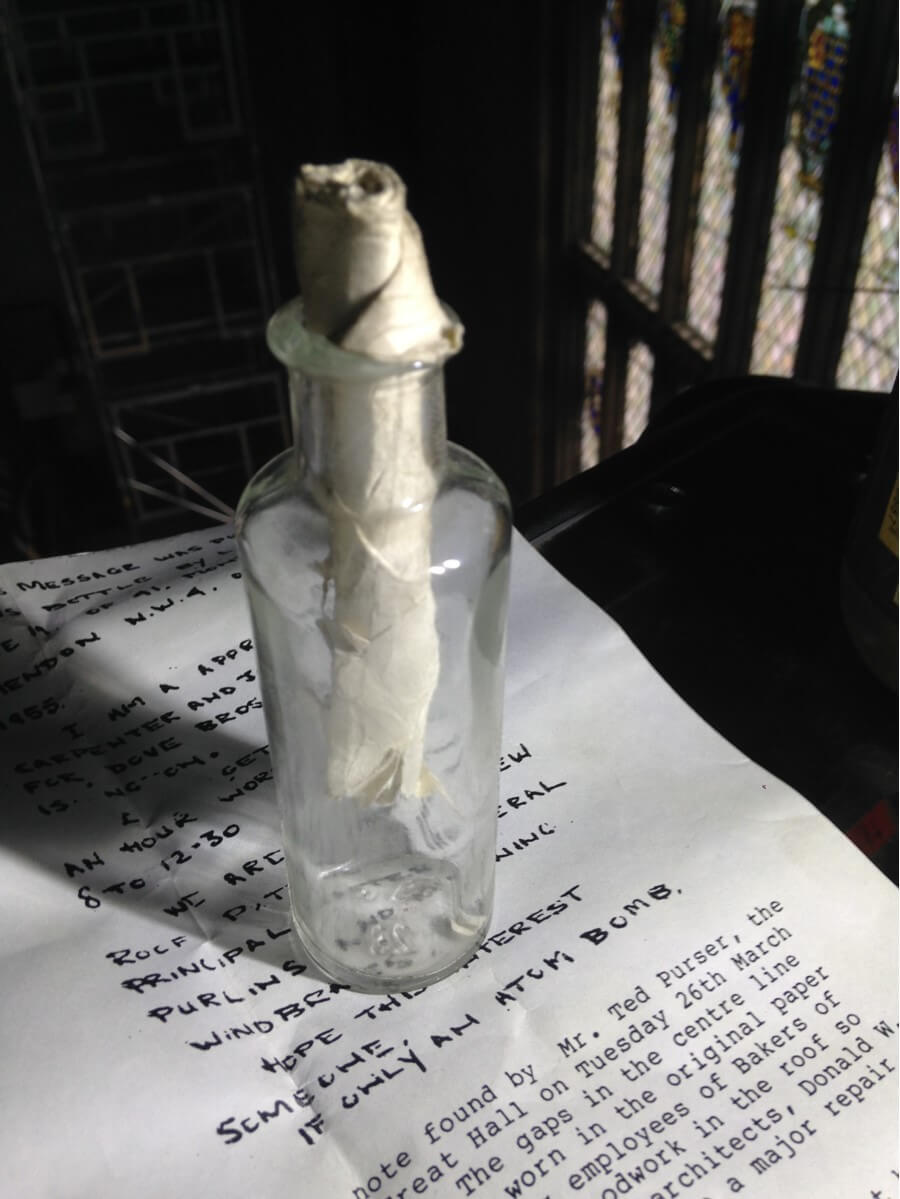 Mr Saunders' light-hearted sign off reflects the uncertain global political situation of June 1955, amidst the backdrop of the Cold War and the signing of the Warsaw Pact - a Communist military counterpart to NATO – just weeks earlier in May 1955.
The apprentice becomes the master
Incredibly, it was not the first time contractors had discovered Mr Saunders' note, as it originally came to light in March 1985 having been found by the Inn's carpenter Mr Ted Purser.
The then Lincoln's Inn Deputy Under Treasurer, Mr E.M.T. Segar, wrote to Mr Saunders, inviting him to return for a visit to the Inn in April 1985 where he revealed that he was a proprietor of his own building firm - E.L. Saunders & Co. Ltd.
The apprentice had become the master.
Repatriated
Despite being repatriated back to its original location, the note was subsequently found again in August 2005 by Robert Trice and Matthew Trice while the father and son duo were installing aspirating pipework for a fire alarm system.
Cryptically, they maintained Mr Saunders' tradition, inserting a note of their own with the question – "Who's next?"
Fast forward to June 2017, and the "messages" in a bottle were revealed yet again – this time as part of the GRAHAM refurbishment programme.
In a beautifully crafted letter, M&E expert Tony Mattin wrote the following for future generations to ponder:
"Jay Harrison (23 years old) and Tony Mattin (39 years old) discovered this note on the 28th June 2017 whilst installing the new lighting system in the Great Hall. At the time of writing this we were both employed as electricians for Mechanical Services Limited.

"Jay Harrison has decided to leave his email as he is young, keen and unassuming. While myself (Tony Mattin) is an old cynic.

"Donald Trump is US president and the world doesn't look too rosy at present.

"Hopefully you find this note with the world in a better place.

"Be seeing you! Tony & Jay."
There is no doubt, there's history behind the walls of Lincoln's Inn.