The Little Patrick Street accommodation provision is complete ahead of the 2020/21 academic year and boasts social and study spaces, mindfulness room and exterior chill out areas
We have completed the ambitious Little Patrick Street accommodation in Belfast City centre ahead of the new academic year.
The project, carried out for Lacuna Developments and Watkin Jones Group for leading UK-wide provider Student Roost, will ramp up the student accommodation offering in the city with a host of facilities and amenities.
Construction on the 12-storey, 430-bed site began in 2018 and over two years has given way to a contemporary student provision with multiple facilities.
A common room, study rooms and outside courtyards and a location close to the new Ulster University campus development have made the property a fantastic option for the student home-seeker.
The ground floor consists of cluster flats with adjoining living, dining and kitchen spaces as well as three self-contained studios, a plant room, bin store, admin space and social area.
Levels one to 11 take on the same format. Each floor consists of six-bedroom clusters, each with its own living, kitchen and dining spaces as well as seven studios.
Social and study rooms and a mindfulness space will offer tenants a complete lifestyle offering while two paved courtyards and bike shelters with raised planters and seating areas ensure the new building impresses both inside and out.
The Linen and Pebble exterior of the building has now made its mark on the Belfast skyline and is set to become an outstanding place to stay for students at either Ulster University or Queen's University Belfast.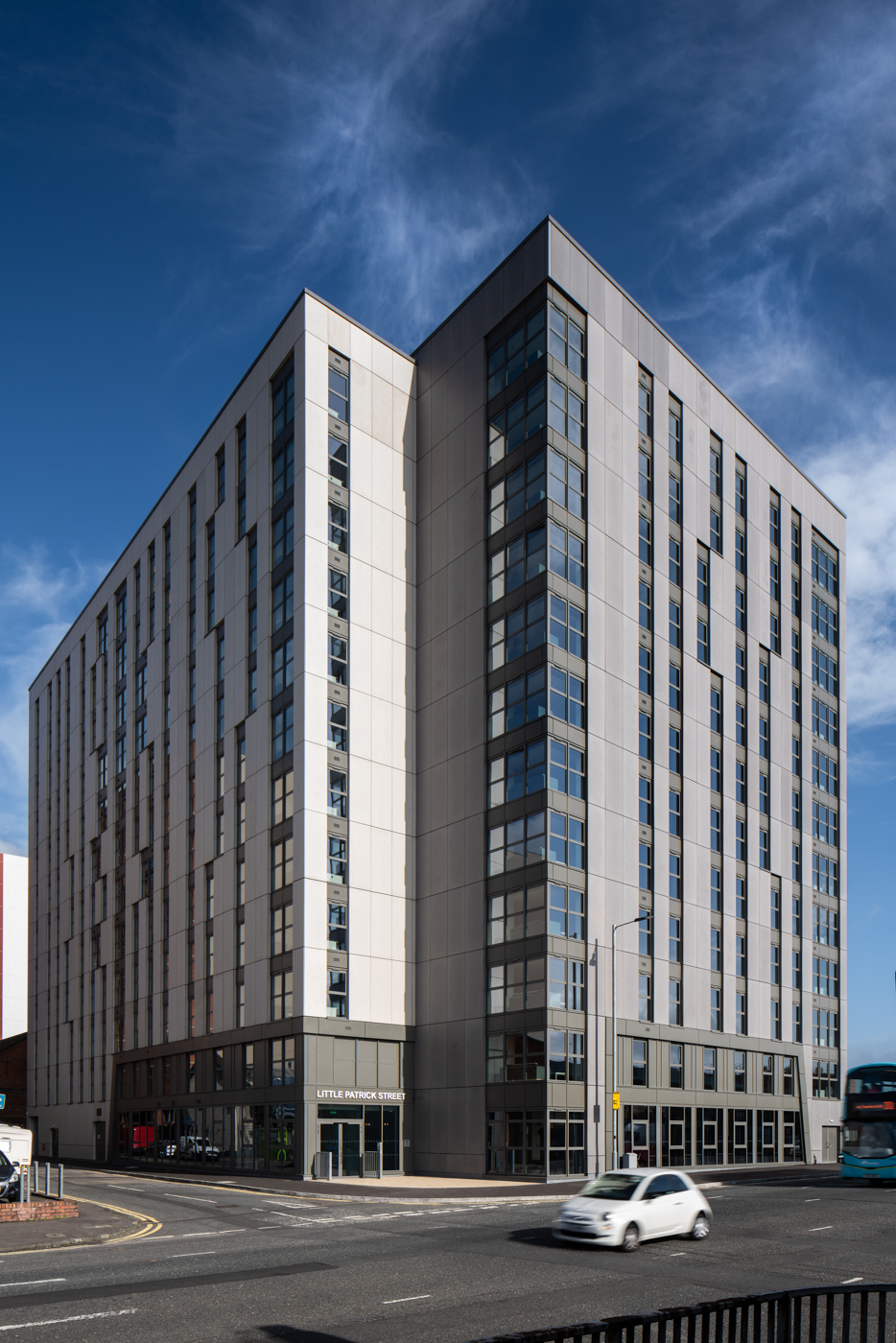 Speaking about the building, Paul Rush, Site Manager from GRAHAM, said: "This project has been completed amid the most unprecedented circumstances, Covid-19 presented some challenges, but we are extremely proud of the concluded offering.
"We believe that this site will offer students studying at Ulster or Queen's universities a premium accommodation setting in which they will thrive."
Neil Howells, Head of Development for Student Roost, said: "We're really pleased with Little Patrick Street, which is Student Roost's fourth property in Belfast. GRAHAM have delivered a fantastic property for our residents ahead of the new academic year, despite the challenges posed by Covid-19.
"We have put extra social distancing and hygiene measures in place to ensure these amazing new spaces can be safely enjoyed by our new residents. We're looking forward to welcoming them to Little Patrick Street very soon."
Over the project's 24-month duration 1,070 construction workers have gone through the turnstiles. Student Roost is now offering virtual viewings for students due to study in Belfast this coming academic year.
For further information on Little Patrick Street, click here