We have agreed a partnership with Street League – the UK's leading 'sport for employment' charity which targets sports to engage with young people, as well as teach them the key life and work skills they need to move into sustainable employment .
We have worked together to establish construction skills academies, giving young people employability support such as career advice, CV writing and interview skills – alongside construction sector specific insights.
This partnership enables young people who access Street League's services to get motivated and informed about career pathways in the construction industry, providing sector specific employability advice. Each participant with an interest in a career in construction is given assistance by Street League to receive a Construction Skills Certification Scheme card upon completion – a national benchmark of the skills required to work on a construction site.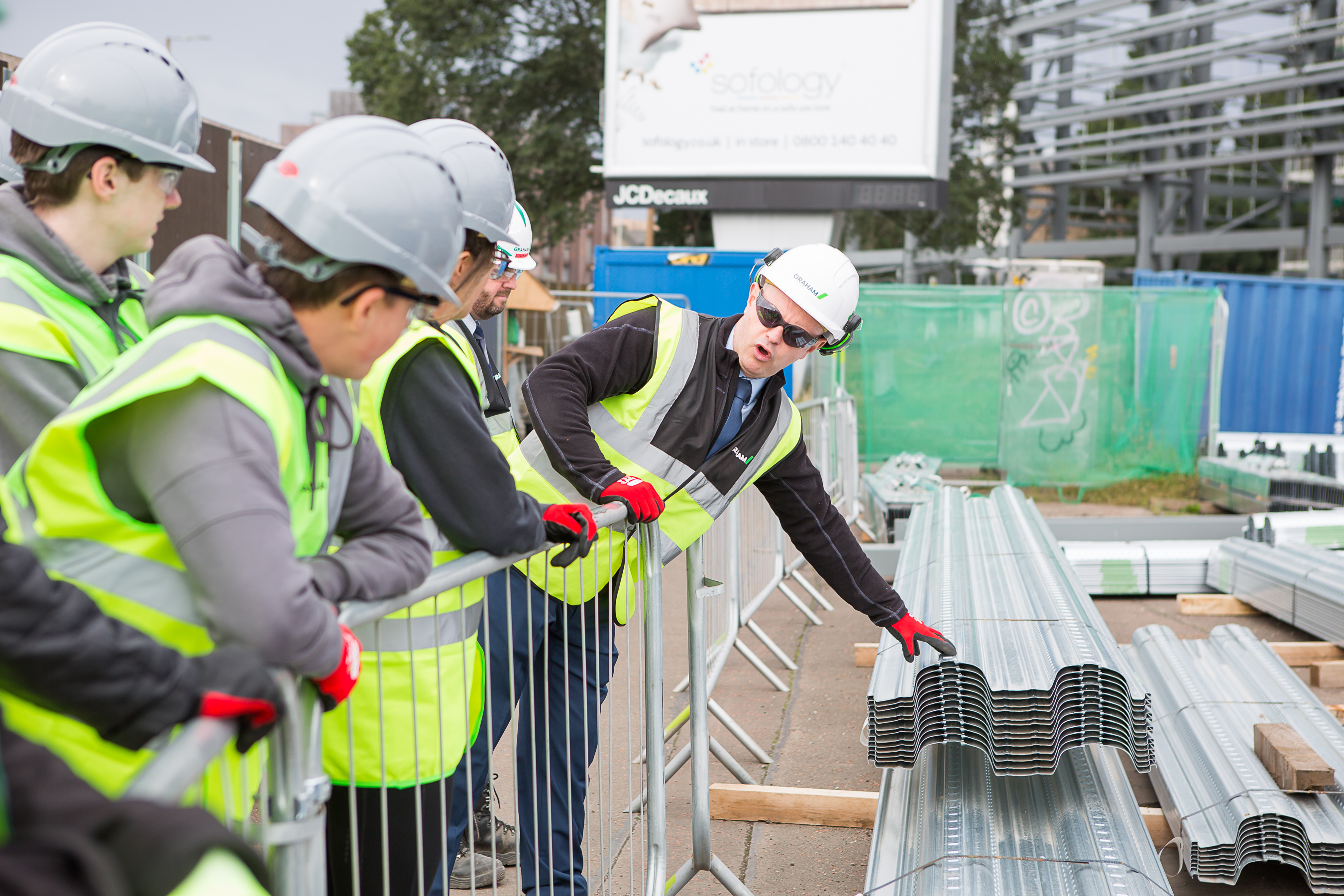 The next phase of the programme saw 16 young people complete two-week work placements on the state-of-the-art development of Meadowbank Sports Centre, which we are delivering on behalf of City of Edinburgh Council.
Future academies are planned for other GRAHAM projects.
We will also be fundraising for Street League throughout the year as well as linking its supply chain partners with the organisation's modern apprenticeship offer, enabling young people working for those partners to gain an SVQ in business administration.
Social Impact Manager, Debbie Rutherford, GRAHAM said:
"Work placements and the promotion of skills has always been an extremely important part of our overall vision for Scotland, driving the creation of this partnership with Street League. We've developed a collaborative model which will give young people access to Street's League's comprehensive employability training as well as specific hands-on construction experience at the Meadowbank Sports Centre site.

"We look forward to working with Street League across a number of different initiatives throughout the year– including fundraising and SVQs."
Youth unemployment
Street League's vision is to see an end to youth unemployment in the UK. They tackle poverty, using sport to help young people who need it most get into sustainable education, training and job opportunities. They have a national team, working in 36 local communities across Scotland and England. In the year ahead they plan to support over 1600 young people into jobs, education or training.
Dougie Stevenson, Street League's Managing Director Scotland, said:
"Partnerships that offer opportunities for young people to gain work experience, and the skills needed to succeed in a job, are invaluable. We are delighted to be working with GRAHAM to unlock these opportunities and the potential for our modern apprenticeships to be offered to their supply chain partners. With financial support as well, through the generosity of their staff's fundraising efforts, we are looking forward to seeing how this partnership can develop and grow nationally."
Meadowbank Sports Centre
Upon completion in 2020, Meadowbank Sports Centre with feature new indoor facilities including an athletics hall, multi-use sports halls, health club, fitness suite and studios, halls for gymnastics & martial arts, squash courts, as well as an outdoor athletics track stadium with dedicated purpose-built space for throw athletics and two all-weather, 3G pitches.