New photographs show the progress being made on City of Wolverhampton Council's eye-catching modern office development i9.
The brick-faced, pre-cast external façade on the six-storey building has now been completed by contractors GRAHAM.
The next phase of construction will see roofing, internal partitioning and further glazing, mechanical and electrical works.
It is another major milestone for the development which is part of the Wolverhampton Interchange scheme that last month won the prestigious Royal Town Planning Institute (RTPI) West Midlands Award for Planning Excellence 2020.
i9 emerged following the success of the award-winning i10 complex on the opposite side of Railway Drive.
The finished building will provide up to 52,000 sq ft of stunning Grade A office space, which has potential for 5,600 sq ft of retail or leisure space and is planned for completion in summer 2021.
It is the next step in developing a thriving commercial quarter at the heart of Wolverhampton Interchange - bringing further investment and jobs to the city.
City of Wolverhampton Council and leading property developer, Ion, selected Glenn Howells Architects' design for i9 as the winner from a strong field of ten UK leading architects and urban design practices in a national design competition.
They are the architects behind the Paradise Birmingham scheme - one of the biggest city centre development projects in the UK.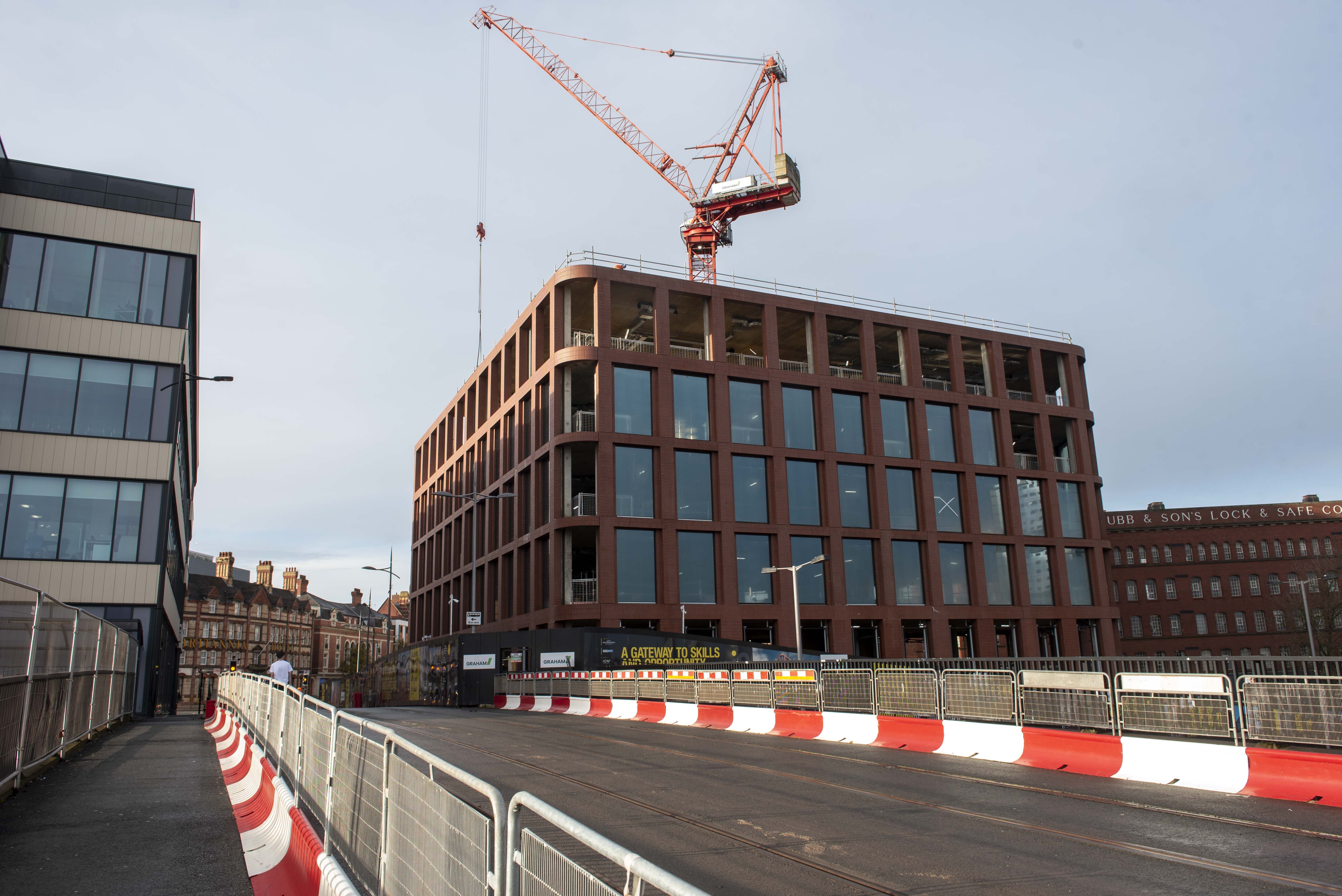 Railway Drive view of i9
Councillor Stephen Simkins, Cabinet Member for City Economy, said:
"The i9 development is helping give investors confidence in Wolverhampton and it is attracting strong interest from potential occupiers.
"This fantastic development will help us stimulate economic growth in the city, bringing hundreds of jobs and much-needed opportunities for local people in our recovery from the current Covid-19 crisis.
"As well as helping get Wolverhampton back on its feet, it is another step towards our aspirations of creating a commercial district in this area of the city centre."
The design has drawn influence from Wolverhampton's family of red-brick Victorian buildings - providing a complementary, contemporary addition fit for 21st century working life.
It is set to house retail or leisure within the ground floor of the building as well as a rooftop amenity space, with panoramic views towards the city centre conservation area and Interchange.
Ion Development Director, Rob Mason, added:
"At this point in the development, we can now visualise just how striking a building i9 will become. Glenn Howells has created an iconic design that sits perfectly and sympathetically with Wolverhampton's existing Victorian buildings whilst bringing a modern edge to the city's commercial district. The new spaces being created around the new and old buildings will add a new dimension to the city's public realm."
GRAHAM will target a BREEAM Excellent rating to guarantee the long-term sustainability of the building and lower any potential impact on the surrounding environment.
GRAHAM Regional Director, Ronan Hughes, said:
"i9 represents a positive step forward in the continued regeneration of Wolverhampton, and we are proud to be playing our part in constructing the high-spec office building, creating jobs for local people, and providing continued opportunities for local supply chain partners. We look forward to continuing to work collaboratively with the wider project team to deliver a distinctive, showpiece building that is the benchmark for future developments in the city."
The Black Country Local Enterprise Partnership (LEP) is supporting the development of i9.
Tom Westley, Black Country LEP Chair, added:
"Developments like the City of Wolverhampton's i9 are bringing jobs and investment opportunities to the Black Country. It is great to see the progress on i9 particularly when we are all focused on economic recovery in response to the COVID-19 pandemic. The Black Country LEP are delighted to be working with all partners to support the project and look forward to seeing it continue to take shape."