To celebrate International Day for Biological Diversity (Saturday 22nd May), we have sent each of our sites across the UK and Ireland a packet of wildflower seeds.
We are encouraging our teams to leave a legacy by sowing the mix as a future food source for pollinators, using it to support the creation of a "bug hotel", or planting it in partnership with a local school or community group to raise awareness around the importance of biodiversity.
Biodiversity Day serves as a reminder that biodiversity "remains the answer to several sustainable development challenges".
This year's slogan is, "We're part of the solution". From nature-based solutions to climate, health issues, food and water security, and sustainable livelihoods, biodiversity is the foundation upon which "we can build back better".
At GRAHAM, we are taking the initiative.
As bees, butterflies and moths are declining primarily due to habitat loss and climate change, our specially selected mix of seeds, once germinated, are proven to provide the food, in the form of nectar and pollen, that pollinators need to survive and thrive during the months when they are most active.
Commenting on the dissemination of the wildflower seeds, which contain a blend of Corn Poppy, Corn Marigold, Corn Chamomile, Cornflower and Corncocklem, to every site, Rosie Barnett, GRAHAM Regional Environmental Manager and Specialist Biodiversity Advisor, said:
"To coincide with International Day for Biological Diversity, we wanted to be proactive and to encourage our teams to actively participate. The packets of wildflower seeds, once sowed, will offer pollinators, who we know are under threat, the perfect habitat to thrive. I am looking forward to seeing the progress and growth in the coming weeks, and hopefully we will see a lasting legacy for years to come."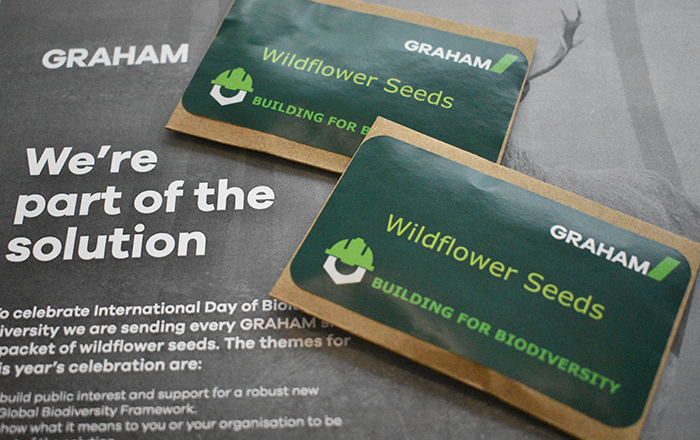 Biodiversity at GRAHAM
GRAHAM has aligned its Corporate Social Responsibility strategy to the UN Sustainable Development Goals. Biodiversity falls under Goal 15 – Life on Land.
We are committing to enhancing and protecting biodiversity, and combatting loss. Demonstrating how GRAHAM is "part of the solution", we:
Are a signatory to the Business in the Community Biodiversity Charter - a framework for us to mitigate and improve our impact on nature and to externally verify our progress
Commissioned Ulster Wildlife to undertake a review and survey of our office locations to identify actions for enhancement to provide ecological value. Using the report, we have formulated an action plan for implementation, including the installation of a green roof at our headquarters, the erection of nesting boxes and bee hotels etc.
Identified the Swift as a priority species, leading to the incorporation of "Swift Bricks" within the envelope of buildings and structures
International Day for Biological Diversity
The themes for this year's celebration are:
Build public interest and support for a robust new Global Biodiversity Framework
Show what it means to you or your organisation to be part of the solution
Create affection for biodiversity and for the word itself
Emphasise hope and the importance of working together at all levels to build a future of life in harmony with nature. Biodiversity is the foundation upon which we can build back better
For more information, please visit https://www.cbd.int/biodiversity-day or follow the #ForNature on Twitter.