Eton College has appointed us to carry out the design and build of phase one of its new indoor sports facilities.
The college is embarking on a capital development programme to improve the provision of indoor sports facilities for its 1,300 pupils. GRAHAM has been appointed one of the two projects within the programme, the Eton Sports and Aquatic Centre.
On the site of an existing outdoor pool, the building team will construct the new Eton Sports and Aquatic Centre (ESAC). A three-storey building comprising a 25m indoor pool with diving facilities and a moveable floor, as well as a number of sports and spectator facilities including a four-court badminton hall, changing facilities, viewing and bar.
The building will be primarily naturally ventilated with opening windows and vents. PV cells on the roof of the sports hall will also provide a renewable energy source. The mechanical and electrical plant will be located in the basement and on the roof deck.
We will carry out the external hard and soft landscaping works to the buildings perimeter which will sit within an existing landscaping bund providing parking for visitors and visiting coaches. GRAHAM is also upgrading the existing eastern track from Slough Road to allow for coaches and cars to access the facilities and creating two pedestrian bridges which will better connect the college to Colenorton Brook.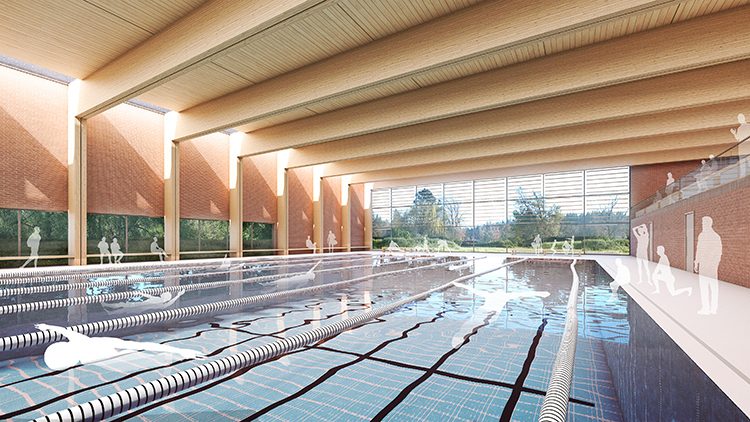 Ian Mellor, Director of Buildings and Facilities at Eton College said, "We are delighted to be working with GRAHAM on this exciting project. The new facilities will help Eton extend its aim of being at the forefront of education through sport while also providing facilities for the benefit of the wider community."
Rob Joyce, GRAHAM's London office director said: "Eton College offers an excellent sports and activities programme enabling its students to identify and develop their own skills and strengths. While tradition remains important, its capital development programme is an example of its faculty's modern and forward-thinking approach to teaching and learning, and the new Eton Sports and Aquatic Centre will enable the school to offer a leading sports programme all year round. We will be drawing on our substantial experience from across the education sector, including the similar activity we recently carried out at Oundle School in Northamptonshire to help deliver the works at Eton College."
The works will be delivered over a 78 week programme.