Leading contractor GRAHAM claimed two top accolades at the recent Chartered Institute of Building (CIOB) Scotland Awards, which celebrates excellence within the industry.
Heriot-Watt graduate, Shams Rahimi, took home the Graduate Award, whilst the Inspirer of the Year / Mentor Award went to Gary Holmes, Regional Managing Director at GRAHAM Building North.
Shams secured a First-Class Honours degree in Civil Engineering at Heriot-Watt University, whilst also undertaking a Modern Apprenticeship, before going on to complete a Graduate Apprenticeship with GRAHAM.
Shams' academic achievements are particularly impressive, having overcome significant challenges to follow his dream career path. As a teenager, he arrived in Scotland as a refugee from Afghanistan and after struggling to begin his career due to a disrupted education, he decided to take a more unconventional route. Shams enrolled in a local college course, and before long, began approaching construction sites to find work experience, which led him to GRAHAM.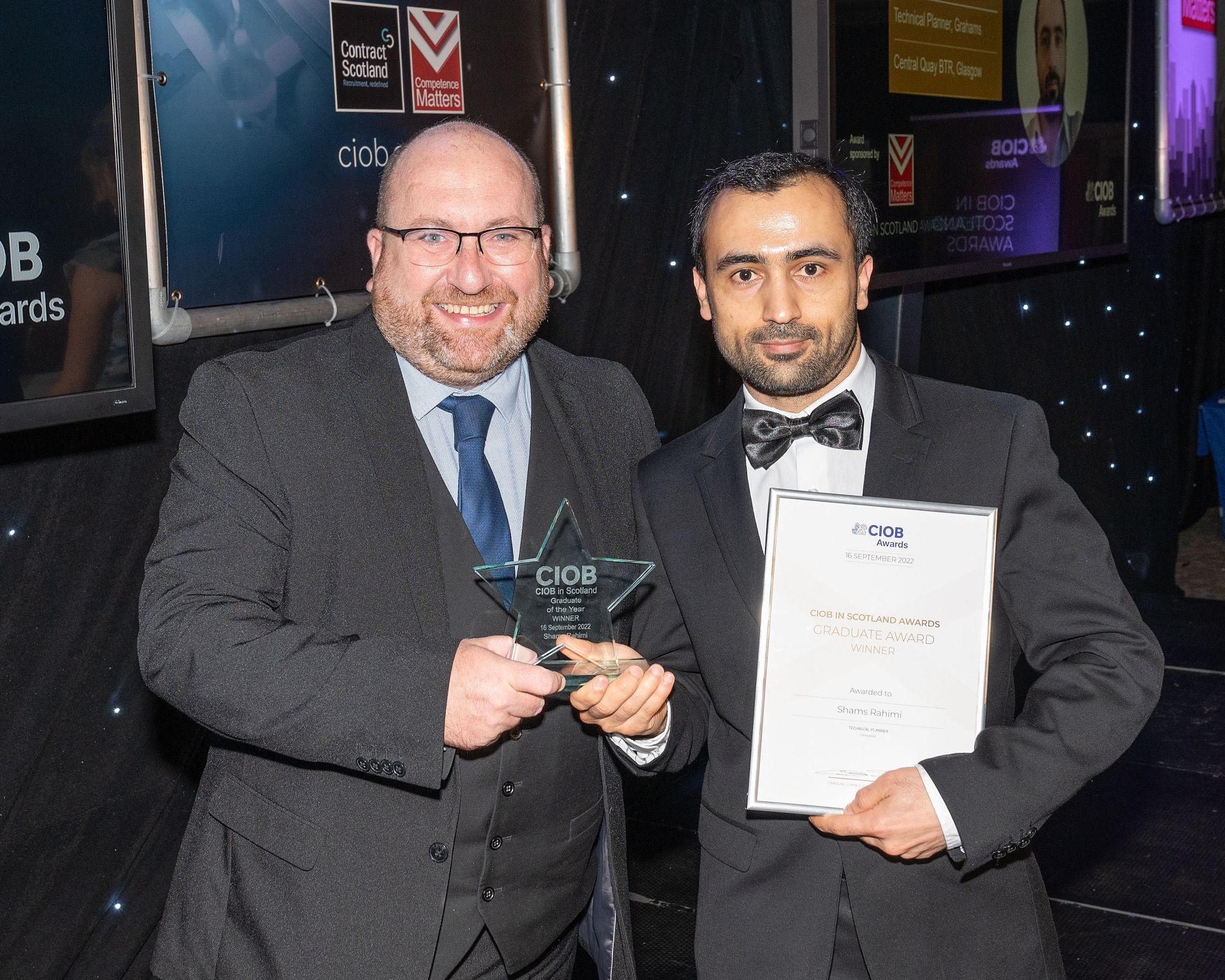 A second GRAHAM employee, Jos Mackie, was also celebrated in the shortlist of the Graduate Award. Jos joined the business nine years ago, where he completed his modern apprenticeship and graduate apprenticeship in partnership with Heriot-Watt University. His resilience, dedication and attitude to both his work and his studies were congratulated, and Jos now enjoys a full-time role as a site engineer at GRAHAM.
Gary Holmes, Managing Director for GRAHAM's Building North region, said:
"We are extremely proud of both Shams and Jos for their impressive achievements and continued hard work as construction professionals.
"Shams' win at the recent CIOB Scotland Awards is a result of his excellent work ethic, eagerness to learn and consistently being a team player, and we look forward to helping him further his career at GRAHAM.
"Through our dedicated graduate and mentoring programmes, GRAHAM is committed to investing in developing future talent, and Jos and Shams are testament to the results of working with young people and giving them valuable opportunities to learn and develop."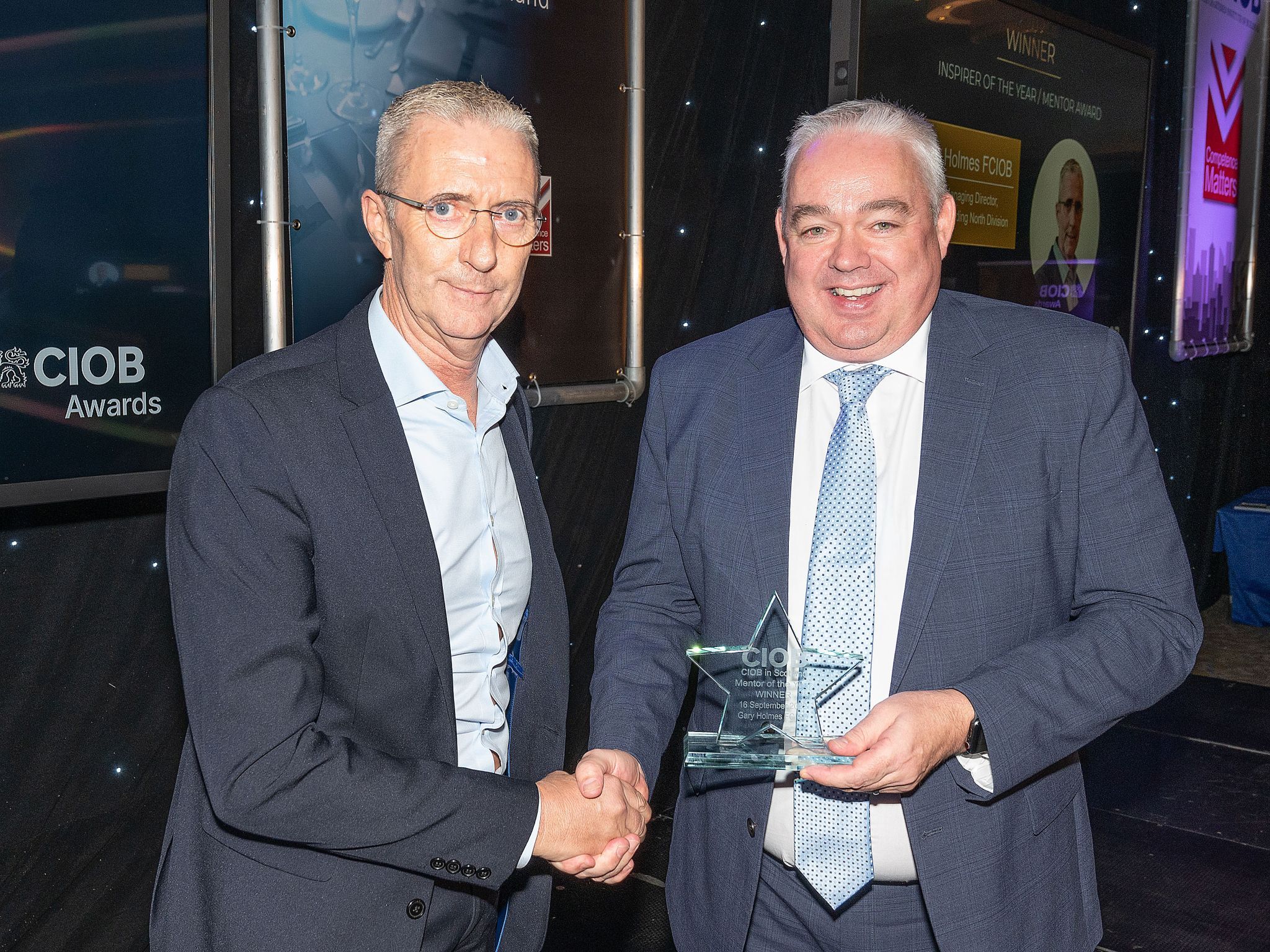 Laurent Galbrun, Programme Director for Heriot-Watt's Civil Engineering Graduate Apprenticeship, said:
"Shams' journey is a testimony to perseverance, dedication and humility. Shams arrived in Scotland from his home country of Afghanistan as a refugee and has gone on to achieve a First Class Honour Degree. Since graduating last year Shams has now taken on the role of work-based mentor for other graduate apprentices and is well on his way to a successful career."
Shams and Jos have also been instrumental in helping other graduates, students and young people in realising a career path in construction through the GRAHAM Academy which is designed to support young people and kick-start lifelong careers.
Through the Academy's Developing Young Workforce initiative, the pair have taken on leading roles in helping to provide the best experience for apprentices through training and providing consistent support.
Currently, GRAHAM Building North has 49 young people completed or getting underway with a structured learning programme. Given the number of young people now in the business, Gary Holmes set up a Young Persons Forum in March 2022. Shams and Jos have been pivotal in developing how the forum will run going forward.