The concrete frame and upper floors for City of Wolverhampton Council's eye-catching modern office development i9 are close to completion.
In a little over three months contractors, GRAHAM, have already installed the pre-cast concrete columns and floor slabs, with just the roof level structure to be put in place on the six-storey building.
The development has already become a prominent feature of the city centre's skyline and once the frame is finished in the coming weeks work will begin on adding the brick-faced, pre-cast external facade.
i9 is set in the heart of the City of Wolverhampton Interchange and emerged as a scheme following the success of the award-winning i10 complex on the opposite side of Railway Drive.
The finished building will provide up to 52,000 sq ft of stunning Grade A office space, has potential for 5,600 sq ft of leisure space for restaurants, and is planned for completion in summer 2021.
It is the next step in developing a thriving commercial quarter at the heart of Wolverhampton Interchange - bringing further investment and jobs to the city.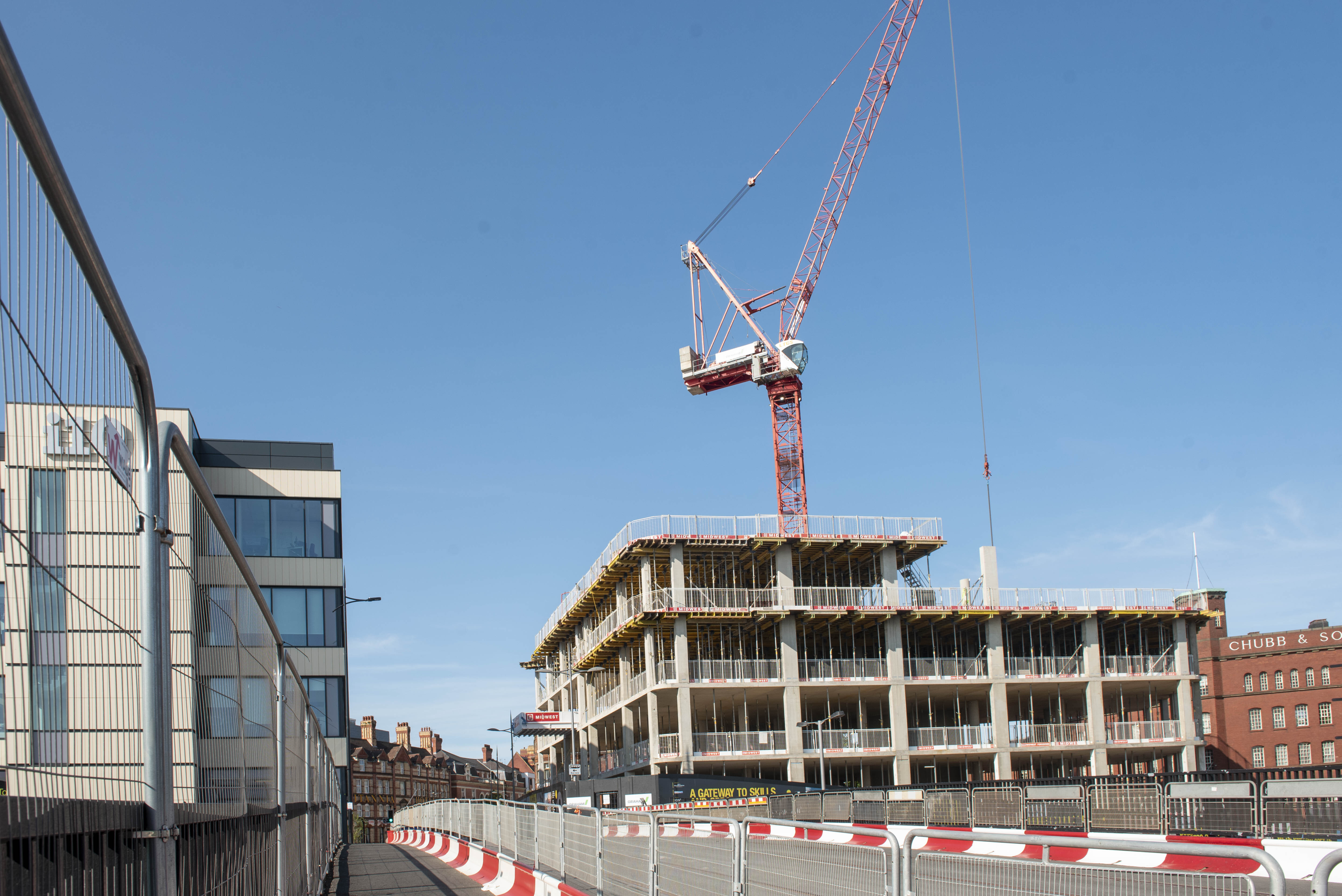 City of Wolverhampton Council and leading property developer, Ion, selected Glenn Howells Architects' design for i9 as the winner from a strong field of ten UK leading architects and urban design practices in a national design competition.
They are the architects behind the Paradise Birmingham scheme - one of the biggest city centre development projects in the UK.
Councillor Stephen Simkins, Cabinet Member for City Economy, said: "Wolverhampton Business Week is currently focusing on the major projects and plans we have in the City of Wolverhampton.
"i9 is somewhat symbolic of the current climate where we are aiming to relight our city after being hit hard by the Covid-19 pandemic.
"This fantastic development will help us stimulate economic growth in the city, bringing hundreds of jobs and much-needed opportunities for local people in our recovery from the current crisis.
"As well as helping get Wolverhampton back on its feet, it is another step towards our aspirations of creating a commercial district in this area of the city centre."
The design has drawn influence from Wolverhampton's family of red-brick Victorian buildings - providing a complementary, contemporary addition fit for 21st century working life.
It is set to house restaurants within the ground floor of the building as well as a rooftop amenity space, with panoramic views towards the city centre conservation area and Interchange.
Ion Development Director, Rob Mason, added: "As the structure has come out of the ground, the quality of the streetscape being created around the building is becoming apparent. It is going to provide an exceptional setting for i9 and the historic Chubb building and Prince Albert Pub."
GRAHAM will target a BREEAM Excellent rating to guarantee the long-term sustainability of the building and lower any potential impact on the surrounding environment.
GRAHAM Regional Director, Ronan Hughes, said: "We are delighted with progress on this important project for the City of Wolverhampton. The building structure and facade solution incorporates 'Modern Methods of Construction', using high quality traditional building materials in a modern method of off-site assembly. This methodology brings enhanced quality and delivery confidence for this modern office development."